Google expands Earth Engine to help boost sustainability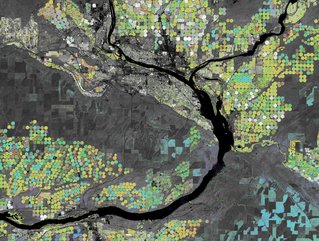 Google Earth Engine has been made generally available so that customers can visualise the impact of their materials use across operational ecosystems
Google has announced that Google Earth Engine will become fully available on the Google Cloud, which is the first time the service will be accessible for commercial use.
This will provide businesses and governments with access to up-to-date insights on how the planet is changing, and enable organisations to be better equipped to move their sustainability efforts forward.
Announced at the Google Cloud Sustainability Summit, the tool is said to provide access to more than 70 petabytes of "analysis-ready geospatial data."
Better equipping organisations for sustainability

Google Earth Engine is not a new product. In fact, it has been available for more than a decade, but with limited access.
Launched in 2010, Earth Engine is one of the world's largest Earth observation catalogs, combining data from satellite imagery and other sources and continually updating itself to present a clear picture of the world's surface.
Google Earth, Earth Engine and Outreach Director Rebecca Moore explained that businesses are under growing pressure from regulators, investors and customers to reduce their carbon emissions.
"We're at a unique inflection point in our relationship with the planet," Moore said. "We face existential climate threats — a growing crisis already manifesting in extreme weather events, coupled with the loss of nature resulting from human activities such as deforestation. With access to reliable, up-to-date insights on how our planet is changing, organisations will be better equipped to move their sustainability efforts forward."
Adapting to new challenges created by climate change
Limited companies were given access to Google Earth Engine last year, ahead of the general expansion announced. One such company was Regrow, a startup aiming to ensure carbon-zero supply chains in agriculture.
"Regrow aims to make regenerative agriculture ubiquitous across the globe with an overall mission to mitigate climate change," stated Juan Delard de Rigoulieres Mantelli, the CTO of Regrow Ag.
"That job has been made easier by Google Earth Engine, a platform which has allowed us to scale our technology and increase confidence in our data and reports," he added.
Earth Engine is helping communities adapt to the effects of these changes, such as new mosquito outbreaks. SC Johnson partnered with Google Cloud to use Earth Engine to develop a publicly accessible, predictive model of when and where mosquito populations are emerging nationwide. The forecast accounts for billions of individual weather data points and over 60 years of mosquito knowledge in forecasting models.
Google explained that for organisations that may not have resources dedicated to working with Earth Engine, it has continued to grow its partner network to support them. For example, its partner NGIS worked with Rainforest Trust to get action-oriented and tailored insights that can help them conserve 39 million acres of tropical forests around the world.