Happy International Women's Day from BizClik Media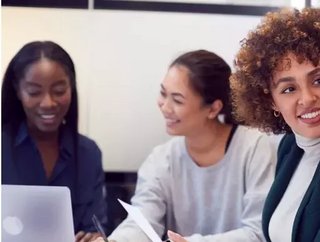 Wherever women are working, from a hospital to a high-rise office, women have risen to the challenge over this year...
Happy International Women's Day! A day to send a Beyonce gif to every group chat, to feel pride in how far we have come since entering the workforce and to reflect on the shortcomings in our lives and in our workplaces, where we all need to do more to increase diversity and callout discrimination where it festers.
According to a recent report by , entreprenuership is one sector where women are making great strides. There are still a greater number of SMEs owned by men, but female small business owners are rising at a significantly faster rate. The amount of women taking out policies increased the most within home baking, takeaway food and courier businesses. 
Female-owned SMEs rose by 18% since 2017, compared to 14% growth in male-owned small businesses for the same period.  What's more, according to Simply Business, female-owned SMEs now account for 29% of all the small businesses in the UK.
And in our biggest and newest industries, women are taking lead roles and bringing innovation to the hearts of multiple, cutting-edge sectors.
At BizClik Media, we have been curating lists of the Top 100 Women in various sectors – from Technology, Fintech, and Supply Chain.
Here's what International Women's Day means to some outstanding women who are driving change in their workplaces.
 "Having spent decades working in Silicon Valley, I've witnessed first-hand the results of underrepresentation and systemic bias against women in the workforce, as well as the impact a thoughtful, diverse approach can have on a company.
"In many instances, women are not being recognised for their potential and contributions in the same way that men are. Several years ago while working at a law firm, I was speaking to a colleague about recruiting a receptionist and he said to me 'We should hire a pretty face for the front desk'. Unfortunately, these sort of dated gender stereotypes still persist in some workplaces - the idea that men are expected to look and behave one way, and there is a different set of standards for women."
"Building a diverse and inclusive workforce is a growing priority across UK industries, and the tech industry is no exception where, particular attention is being directed towards tackling low female representation.
"Equity allows businesses to give women the opportunity to break into an industry so dominated by men. Leaders must prioritise motivating and supporting existing female employees, as well as recruit female talent into the organisation in future.
"Moreover, equity does not simply benefit women, but all those groups who are underrepresented across industries. It is about changing the fundamental structures of a business to improve representation and inclusion for all. In other words, it presents a sure-fire way to address imbalances that have long been engrained in the tech industry at large. 
"Diversity and inclusion need to be top considerations for all businesses, with initiatives designed specifically to promote the growth of female employees, as well as those from ethnic backgrounds, within their organisations."
"Small businesses are vital to our economy and will be at the heart of our collective recovery from the pandemic. Our data shows that increasingly it is women who are leading the way. And given the number of female-owned small businesses continues to rise consistently year-on-year, we can only expect this to continue into 2022 and beyond."
"We need to reverse any misconceptions that women don't support one another. Throughout my career, I have been called 'unprepared' in meetings for raising the voice of my colleagues in situations whereby I was expected to speak. But, it is a price I continue to be willing to pay. This is because if I didn't defer questions to equally capable members of my team, some of them wouldn't be given another opportunity to contribute and showcase their own expertise.
"The movement towards greater inclusion in the workplace for women is far from over. Though I'm fortunate enough to work both in a company and a sector that is doing more than most, International Women's Day is a time in which to reflect upon how much more we can and should do in the next year."
"We all know the benefits of closing the gender gap, but a focus on equality only isn't going to break down established gender biases. It won't drive the levels of inclusivity needed within businesses to see a true representation at all levels. We need to recognise the importance of equity as well.
"I think it's too easy to say: 'We treat everyone equally', however this is still a long way from making the technology sector truly diverse and is not enough to drive the levels of required change in a reasonable timeframe. The purpose of equality is to create a level playing field. Whilst I believe everybody should have the same opportunities, we should acknowledge that a lot of young girls and women in the UK and in different parts of the world might face different barriers to achieve the same goals we have and need more support to make these goals a reality. Equity is about factoring in these differences and giving everyone what they need to be successful.
"We must set firm actionable targets across all levels of the organisation to deliver real change and establish a culture of allyship to speak up for equity and speak out when words do not align with actions. We have to work closely to develop approaches such as establishing diverse hiring panels to ensure we reduce the chances of bias and open the doors for people from all walks of life.
"We've certainly made positive progress in the technology sector, but there is still plenty more to do to address the issue at the entry level all the way to the C-suite. We must continue to encourage future generations and demonstrate the great diversity of opportunities in technology."
"Technology is the fastest-growing industry, but it still has some way to go from a diversity perspective. What I see is that many women don't have the same opportunities as their male counterparts evidenced by the low percentage of women in leadership positions.
"An extra effort needs to be made to support women with career development and leadership skills. To ensure they have access to opportunities, we must set specific targets – similarly to every other area of business. Why should diversity be any different? Diversity is proven to increase creativity, innovation, competitive advantage and ultimately a business's bottom line.
"To encourage more young girls and women to consider a career in tech, we need to start by showcasing the breadth of roles available – technology does not always have to mean "technical". We must spotlight the voices of women coming from diverse background and career paths to help diminish the conception that tech is a "male-only" industry.
"And to really make a difference it is vital to talk about and act on equity. If we just look at providing equal opportunities for all, those who might need more support to succeed might still remain excluded. And equity is about achieving greater fairness of outcomes for all."