How are technology firms tackling e-waste?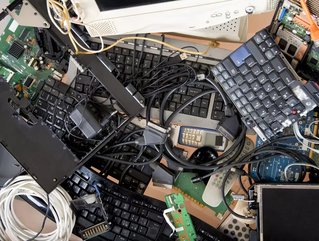 From reducing waste in the design stage to allowing consumers to repair their own devices, how are tech firms tackling the growing issue of e-waste?
With Christmas just around the corner, lots of people will be thinking 'out with the old and in with the new' when it comes to technology. But how are companies trying to tackle the e-waste problem? 
Electronic waste - commonly referred to as e-waste - is discarded electronic devices that are no longer wanted, not functional, or obsolete. It can include used computer screens and monitors, lamps, large equipment, and small IT items. 
The rapid pace at which technology advances today, as well as growing consumer demand, means that many devices reach the end of their useful life after only a few years of use. As such, electronic waste is now the world's fastest-growing waste stream.
The volume of electronic waste generated worldwide in 2019 was roughly 54 million metric tons. Projections are showing that by 2030, annual e-waste generation worldwide will have increased by approximately 30%.
Major firms joining together to tackle the global issue
Earlier this year, major technology firms including Dell, Microsoft and Google joined a new initiative aimed at creating a circular economy for electronics by 2030, amid mounting alarm over the world's ballooning e-waste problem.
The Circular Electronics Partnership (CEP) has brought together a group of global organisations and more than 50 experts from the electronics value chain over the past year, to start the first private sector alliance for circular electronics. 
The project comes as humanity's insatiable appetite for smartphones, household appliances and electronic car parts combined with the short lifespans of many tech products has made e-waste the planet's fastest-growing refuse. The CEP marks the first-time experts, business leaders and global organisations will set a vision and roadmap committing to a circular economy for electronics by 2030 and co-design solutions around this topic. 
The initiative, led by the World Business Council for Sustainable Development and the World Economic Forum, has outlined a vision for how industry might break this habit. But this is only a first step and does not include financial commitments or firm targets, the groups caution.
"We can't continue to assume that we can produce as many products as we want without thinking about what happens at end of life," said Brendan Edgerton, previous director of the WBCSD, adding that electronics involved include "everything with a plug or a battery".
Do consumers know how to deal with their e-waste? 
According to research from BT, almost a third (31%) of Brits don't know how to recycle unwanted electrical items, with 41% admitting to having cupboards full of cables, broadband hubs, and even printers.
The research found that printers were the most confusing item to recycle, with 31% not knowing how to do so. This was followed by cables (30%), which was also the most commonly unused item stored at home, with almost half (44%) of UK adults admitting to having them clutter up their cupboards and drawers. Other items commonly hoarded include broadband hubs (29%), smart speakers (26%), and Wi-Fi extenders (21%).
BT found that the majority of UK adults (74%) place electronics in black bin liners, committing them to landfill instead of recycling, which has disastrous consequences on the environment. Another 55% of Britons admitted to engaging in 'wishful recycling' – placing e-waste in recycling bins in hopes that they'll reach a recycling centre.