How cross-team collaboration drives digital transformation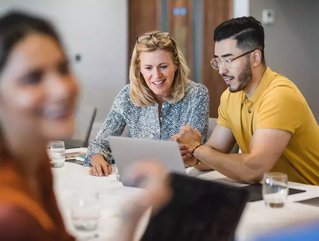 A more collaborative operating model will be essential to organisations' ability to keep up with the pace of digital transformation in the years ahead...
When it hit last year, the pandemic created an urgent need for organisations to rapidly pivot their go-to-market strategies and accelerate their digital transformation roadmaps. In late 2019, that by 2023, more than half of all GDP worldwide will be driven by products and services from digitally transformed enterprises. However, especially in light of the last year, it seems safe to assume the reality will be an even greater proportion. released in the final quarter of 2020 found that 89% of CIOs said their digital transformation had accelerated, and 58% predicted it would continue to speed up.  
Overnight, the ability to innovate faster and create better digital experiences became key to driving revenue, keeping employees productive, and safeguarding business operations. However, it's also become increasingly difficult for IT teams to keep up with this soaring demand for faster innovation and better digital experiences. The shift to a remote working model, increased demand for cloud services, and rapidly changing business needs have all piled on the pressure, stretching IT resources more thinly than ever. In the face of this pressure, traditional operating models with siloed teams are falling short. 
Limited collaboration holds the business back 
The majority of IT departments consist of multiple teams focused on designing, building, deploying, and running the digital services that the business and its customers rely on. These teams often use multiple tools to monitor and manage everything from application and infrastructure performance to user experience, conversions, and revenue. As a result, there's no single, consistent source of truth or unifying language across the business, making it more difficult for teams to collaborate effectively. It's often a very time-consuming and painstaking process for individual teams to identify and understand the full context behind the data they have, so they can work with others to improve services for the business and its customers.  
This siloed visibility also makes it difficult to achieve a true understanding of the impact IT is having on key outcomes, such as conversions and revenue. In fact, 93% of CIOs say issues such as siloed teams and fragmented tools prevent them from maximising the value IT creates for the business. These challenges can also lead to lost revenue due to mistakes that could have been avoided with better collaboration. There are also the significant inefficiencies and wasted productivity to consider, as teams spend countless hours in war rooms trying to identify the causes and solutions to any problems that arise. has found that in the average organisation, IT and business teams spend over 12 hours a week in meetings trying to manually combine their disparate data sets to identify the best course of action to take.  
Creating change by breaking silos  
As the pressure to accelerate digital transformation continues to rise, this status quo simply isn't sustainable. There's no longer time for the best-guessing or finger-pointing that comes with war rooms. To ease the burden on overstretched resources, organisations need to transform the way their teams work, by breaking down the silos between IT and the business. To do so, they will need to find a way to consolidate their fragmented monitoring tools into a single platform that all teams can use to maintain real-time visibility into critical business KPIs. They'll also need to bring together all of their insights on application and infrastructure performance, user experience, conversions, and revenue into a unified data model. Only then will their teams have the ability to understand what everything means in context.  
This more unified, collaborative operating model will be essential to organisations' ability to keep up with the accelerating pace of digital transformation in the years ahead. Whether it's developers collaborating with ops, or ops with business teams, or the business with developers, equipping teams with a single, consistent source of truth about digital services enables everyone to get on the same page quickly. This gives everybody a single, unifying language and precise answers at their fingertips, so digital teams can better understand the impact their efforts are having on the business and its customers. As a result, they can make more data-backed decisions, so they can continuously deliver better digital business outcomes – driving revenue and conversions – across all channels, more efficiently.  
 By Abdi Essa, RVP UK&I, Dynatrace