How gaming tech is used to plan the world's largest events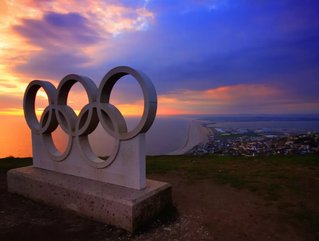 Iventis CEO and Founder Joe Cusdin explores how video gaming engines are being used to plan major events and some of the challenges that come with them.
The video gaming industry continues to experience unprecedented growth, rising by 20% during the COVID-19 pandemic to nearly $180 billion in 2020, according to the International Data Corporation. As a result, a huge amount of investment has been made into video gaming technology. This includes 'gaming engines', such as Unreal and Unity, which power many of the world's games such as the popular Fortnite series.
In the past five years, such technology has found new use cases outside of entertainment. The architecture, engineering and construction (AEC) sectors have begun using it for interactive visualisation, simulations and digital twins for example. Another great example of this was at the Tokyo 2020 Olympics. The BBC TV studio used this technology to give the illusion of being in Japan when it was, in fact, in Manchester.
It's not uncommon to see Virtual Reality used to provide immersive interactions of new buildings or infrastructure. The results can be incredibly powerful and appealing for stakeholders, as well as planners and designers. A more recent trend has been the combination of mapping technology, such as Iventis, and gaming engines. This can provide 'Google Earth' style flythroughs across the globe, or flight simulators. The visual quality provided by gaming engines can surpass what is possible through web browsers. However, it requires detailed 3D models, powerful hardware and a well-designed UI to be practical.
We explore the potential of such technology in operational planning, as well as the challenges.
Gamification of Operational Plans
Operational planners, such as major event organisers, can find this technology highly appealing. If a detailed, 3D model of a venue or facility is available or can be created, it allows a user to fly or walk through from a computer. Users can view a huge amount of detail and get a realistic visualisation of a venue. 
Potential use cases might include broadcasters and press being able to see the exact view from their position. Different lighting conditions could be simulated, such as the position of the sun. Operators can walk stakeholders through a venue/facility to experience the customer journey. It could be used to help train staff, such as event volunteers. When combined with other data, it can be developed into a 'digital twin'.
Challenges
Implementing this technology is not necessarily straightforward, not due to the technology itself which is well developed, but the availability of data, 3D navigation, and the hardware required to run it.
3D Models
Unlocking the value of gaming engines for event planning relies on detailed 3D models of venues and facilities.
The model can be used to explore a location, check the view from a seat in a stadium, change lighting conditions, view developments of infrastructure changes and more. This can be used to engage with planners, stakeholders, suppliers and event attendees. Perhaps the most likely use cases are more in commercial management, where a visually appealing rendering can help the sales process – such as selling sponsorship or suites.
Challenges
Acquiring, creating and maintaining such models can prove challenging and costly, but for those willing to make the investment the results are impressive.
One approach is 3D scans which can be used to survey a building and get real-world data. To scan an entire venue, this might require a combination of drones/aerial surveys and people with scanners to cover internal areas. It creates a huge amount of data, which then has to be combined and processed in a meaningful way.
3D scanning processes are improving all the time, but it's still an expensive, time consuming and not necessarily perfect approach. Objects or people can present challenges which interfere with a survey. Should something change, an area might need to be surveyed again.
Another approach is to manually create a 3D model – using BIM or 3D modelling software. Again, if changes occur the model needs to be updated. For the best results, these techniques can be used in combination. A 3D model could be built using data from a survey.
While exploring this technology, we found that sourcing or creating the 3D models is one of the greatest barriers to unlocking its value. Models can either be produced by a designer, or captured from a 3D scan. For some facilities, they may have been designed using 3D CAD or BIM, but importing such formats is rarely straightforward and requires specialist skills.
When we imported an existing model of Wembley Stadium, we had a number of challenges despite it being a ready-made model. We also noticed accuracy issues which would have to be amended for any real, practical use. For example, while the field of play and seating bowl was detailed, no internal areas of the stadium were available. Most commercially available 3D models would not cover such areas, as they are less important for most purposes and the modeller is unlikely to have access to accurately produce them. However, planners require accurate models covering both public (front of house) and the critical operational spaces (back of house) to confidently develop their plans. 2D CAD drawings are almost always available and reliable, but 3D models are more expensive to develop and upkeep.
Lost in space
Detailed 3D models are visually appealing and certainly create an initial wow factor. However, having a system which goes beyond viewing spaces in 'top down' plans is challenging. However, for simple VR experiences, tours or rendered videos, gaming technology is a great tool.
Interacting with 3D environments is notoriously difficult. Autodesk, for example, has whole research topics on 3D navigation and interaction. Anyone who has tried to play a video game for the first time will testify there is a learning curve. This can make it difficult for wider adoption beyond technical specialists who are comfortable with the technology. We experienced difficulties navigating the environment on a laptop with a trackpad. It's surprisingly easy to become disorientated or lost in the 3D environment. We ended up implementing own own camera system which is more familiar for users. As with most software, the greatest challenge is creating a User Interface (UI) and User Experience (UX) which works seamlessly and provides real value for users.
Scalability
While this technology looks hugely impressive, it comes at a cost. Not only does the 3D data have to be created or acquired, but powerful hardware is required to smoothly handle such graphics. This is particularly true when complex models or large-scale scans are required.
Most people in larger organisations don't have laptops or PCs powerful enough to run this software, and it would be too expensive to provide it. There is an alternative, which is to use 'pixel streaming'. This is where the powerful hardware exists on 'The Cloud' – in a remote data centre. This is then streamed to an end user's computer – similar to streaming a movie on Netflix.
In theory, that's a great solution. Anyone can access the technology on pretty much any hardware - even a phone However, the cloud hardware comes with an hourly cost and a limit to scalability. This makes it useful for a small number of users, but difficult and expensive to scale to a large organisation such as a major event organiser. Not only that, but the powerful hardware comes at an environmental cost. The powerful computers in large data centres consume a great deal of energy.
Conclusion
Video gaming technology is incredibly visually appealing when it can be used. It provides a level of immersion which is extremely useful in certain use cases. It undoubtedly creates a wow factor when first seen, though it can be challenging to get more value beyond visualisations and fly throughs. When combined with other data, such as sensors in a building, it can be developed into a 'digital twin'.
It is expensive to create the 3D environment, requiring specialist skills and technology. But perhaps the greatest barrier to wide adoption is the cost and challenge of scaling the technology beyond a single user.
We expect to see more of the technology, particularly where planners need to create the 'wow factor' (such as in commercial negotiations). It can also be useful in certain operational contexts, but technical challenges and costs may limit wider adoption in the near future.