How Nreal is creating the next generation user interface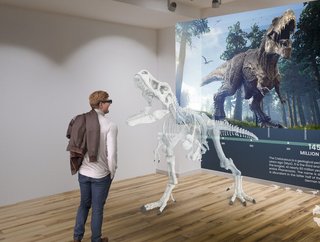 As the focus shifts to new realities, we take a look at Nreal which has been at the forefront of developing consumer-facing mixed reality wearables
Founded in 2017, Nreal is a fast-growing augmented reality (AR) company assisting the next generation of user interactions with hardware and software solutions that merge the physical with the digital world.
Nreal is fueled by a mission to make AR accessible for everyone, encompassing both consumers and enterprise customers, and supported by global partnerships with the world's leading 5G companies worldwide.
The company first received worldwide recognition when it debuted Nreal Light in early 2019, which it claims is the first-ever AR glasses for consumers. Its other products include Nreal Air AR, and Nreal's self- developed 3D system Nebula.
Increasing investment and development of technology
Nreal has recently raised US$60mn in a funding round led by China's ecommerce giant Alibaba.
The tech company has said the funding will be used to increase investment in research and development and accelerate expansion into new markets this year — including China. So far, Nreal has been selling its products in a handful of markets including South Korea, Japan, Spain and the U.S.
Enterprise spending on AR glasses is forecast to experience significant growth in the coming years. The enterprise setting includes data visualisation in corporate environments, as well as AR glasses software purchases by brands as they look to create AR experiences for customers. The unlimited virtual space and multi-dimensional display enabled by AR glasses allows content and service providers to re-imagine the video-watching experience.
The Beijing-headquartered start-up previously disclosed a US$100mn funding round in September last year, where the backers include a number of major investors such as Nio Capital, the investment arm of electric carmaker Nio as well as venture company Sequoia Capital China.
Developing mixed reality experiences
Through a partnership with Accedo, Nreal, offers support for DRM content on NRSDK, Nreal's platform for developing mixed reality experiences, enabling content providers to stream DRM video content on AR glasses.
To give the industry a glimpse of the potential that AR offers, Nreal is partnering with Accedo to release FutureTV, an interactive design reference built on ExoPlayer, the open-source media player from Google commonly used to validate DRM compliance. In addition to displaying different levels of DRM control, FutureTV showcases three design ideas for interactive documentary with embedded 3D objects, multi-game display and sports with integrated ecommerce.
Content providers can either use NRSDK to develop their own AR apps for the Nreal glasses, or, for a simpler alternative that won't require development resources, can instead stream DRM content through Nreal's proprietary media player.
"As consumers are embracing new content platforms to consume entertainment, we're excited to partner with Nreal Light, to support the streaming services that seek to make their platforms or content available to all devices from Nreal in a format that we believe heralds the future of online video consumption," said CEO, Michael Lantz at Accedo.
Accedo is best known for developing video experiences for services providers around the globe such as NBC Universal, Deutsche Telekom, Telefónica, Showtime, CNN, NBA, Discovery Channel, NASA, and more.
Image: Nreal