IWD 2021: tech experts discuss tackling gender biases
By Twelve female industry experts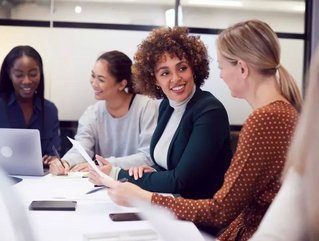 12 women industry experts, in software development, AI, public sector IT, data analytics and cybersecurity give their thoughts on International Women...
Gender equality in the workplace has been talked about for years, and while strides have been made, senior leadership teams are still nowhere near 50/50 gender parity in many industries. A lack of equal opportunities for women remains a real problem, particularly for the tech sector.
When it comes to boosting diversity, business leaders have a duty to give increased opportunities to underrepresented groups, whether through recruitment, mentoring or promotion. Recent research shows that a balance of men and women in senior leadership teams boosts performance and helps generate psychological safety, innovation and diversity of thought. For this reason, men also need to champion diversity if they are ambitious about company growth.
The International Women's Day theme for 2021 is #ChooseToChallenge. In this article, experts working across the fields of software development, AI, public sector IT, data analytics and cybersecurity, give their thoughts on the importance of tackling gender inequality in tech today.
The importance of confronting gender bias 
Chris Fielding, CIO at Sungard Availability Services, continues to be inspired by her female colleagues who have an expectation that they will be treated appropriately and are prepared to call out when they are not. She explains "Their energy and expectations are infectious, and I have learnt much from their approach. In the past there were many dinosaurs in the technology industry, but the last 10 years, in my experience, such behaviour is no longer acceptable. This is due to the considerable efforts of organisations to open the eyes of their leadership to the benefits of a diverse workforce, leading to new ideas and management styles."
Munni Musa, Business Development Manager at Civica, takes a similar view. "Diversity in the workplace reduces unconscious bias and creates a culture that women want to join and belong to. We can only really challenge gender bias if we reflect on our own bias, hold a mirror up to ourselves and review how we interact with other groups. Our role as leaders is to be culture champions, and be conscious of our behaviour, language and actions. Actions speak louder than words, and I feel we do that very well at Civica, creating a culture of inclusivity. But, we must all continue to challenge inequalities and choose to seek out and celebrate women across the industry."
Lisa McLin, Global VP Alliances and Channel Chief, and Head of POWER at Rackspace Technology, also stresses the importance of challenging the status quo, stating we cannot sit back and hope for the best. "Some of the small steps I take to do this include: challenging meetings where I am the only woman by inviting female colleagues that I know can add value; continually challenging business leaders to not only have a D&I strategy in place, but to ensure it is consistently being evaluated and strengthened; and doing my best to support recruiters looking for talent by recommending strong women that I know are ready for their next career move."
Providing the right opportunities
Sara Boddy, Senior Director at F5 Labs, is a firm believer that opportunities for women in tech should be made evident at the earliest stages of their education and career. "For technology businesses to become more inclusive to women, continued funding from the tech industry for STEM schools is very important. I also think we can help to overcome the gender gap by finding ways to tell cool stories about what this industry does. We need to drive early involvement at a governmental and local school level. It may be a while before we start seeing significant differences in terms of gender balance within the industry at all levels, but I'm positive that change is coming."
Ellie Barrett, Global Alliances Manager at Natterbox, shares the same viewpoint that the value of technology should be taught as early as possible. "For me it's important that other people get the opportunity to learn about technology at an earlier stage in their life alongside other industries and career opportunities. This needs to start with educational organisations and the careers advice that is offered to students. We need to educate the younger generations on how exciting technology truly is. It powers the world around us and the things that we interreact with most every day, from our mobile phones to contactless credit cards – all the things that we take for granted.
Elcenora Martinez, VP Product Management at Genesys, believes opportunities are there if you ask for them. "It's something I learned from my father. He insisted that I apply to Harvard University when I was considering colleges. I knew I wasn't going to get accepted but I learned an important lesson. He instilled in me that we are only limited by our own choices. You don't know until you ask. That goes for both men and women. But in my experience, men embrace that philosophy much easier than women. And it also makes a big difference that in today's environment companies are increasingly pushing an equality and diversity agenda. It makes taking that leap of faith to ask for an opportunity much easier for women today."
Nan Craig, Data Analyst at Faethm AI, believes the onus must be on businesses to ensure equal opportunity is provided for all. "Currently too much emphasis is on individuals to adapt and change. The barriers to entry into technology can be low for those that have the time and resources to self-teach, but retraining shouldn't be solely their responsibility. Businesses must investigate opportunities for all employees to gain essential digital skills and redeploy them in more in-demand roles. This should help create diverse teams that include equal female representation, and not only contribute to tech innovation, but also benefit both business and wider society."
Being a champion of diversity
Peakon's Global Director of Diversity, Equity, and Inclusion, Sheree Atcheson believes that taking the time to understand the challenges of underrepresented groups will go a long way to ensuring gender equality. "If business leaders really want to improve gender equality in the workplace, they need to consider the specific challenges faced by different groups of women. Failure to do so will see them miss the opportunity for truly progressive discussion, and leave the problems faced by numerous women ignored and unaddressed."
Ekaterina Stoianova, Cognitive Project Lead at Amelia, takes a similar view. "When I got promoted, my husband surprised me with the "Nice girls don't get the corner office" book. This gift was not only a nice gesture of reassurance, but it also made me realise that there are indeed differences in behaviour and perception that we sometimes don't give enough importance to. The biggest challenge I see is our fears getting in our way. Historically boys have been brought up to be brave, and girls to be polite. In the modern society, gender definition is slowly losing its relevance, and after all, all of us equally should be brave enough to face our fears and bold enough to go beyond and put ideas forward."
Nicky Tozer, VP EMEA at Oracle NetSuite also stresses the importance of everyone in a business doing their bit to champion equality. "To me, Choose To Challenge sets the mission for us all to analyse, question and adapt. The key here is 'choose' – every single one of us needs to consciously assess, and act upon the imbalances that we still encounter each day. Whether that's becoming the youngest female CEO to take a company public with a majority female board, or the men sharing the responsibilities to help address the work/family balance issues that have been exacerbated by remote working. Choose to Challenge is the platform that reminds us of the need for education and action, and the work we must all do to normalise equality at all levels."
Finding balance in the pandemic
Angelica Reyes Froment, Head of Marketing for Europe and the UK at Freshworks, recognises that home working has provided challenges for women in the tech industry, but they have continued to thrive. "For me, this year's International Women's Day will give us a moment to recognise that the challenges of the last 12 months have led to opportunities for some working mums to strike a better work/life balance. Of course, remote working isn't always easy, but I am lucky enough to work for an employer who has allowed me to set strict boundaries with my time during the pandemic. I have still been able to collaborate with my teams and get the job done, but also spend some real quality time with my two sons. Being there for them in key moments of their day such as lunch or them coming back from school has been crucial for me in finding the right work life balance." 
Achieving inclusive innovation
Poornima Ramaswamy, Executive Vice President, Global Solutions & Partners at Qlik, summarises the importance of International Women's Day well. "It is very easy to be lulled into viewing people and things through a single gender bias lens, which is due to the inherent bias that is still prevalent in our society. And it is this limiting frame of reference that is having a material impact on the way our world works. The first step towards achieving accurate representation is to have a balanced team. Diversity brings different viewpoints and characteristics to the table, which is fundamental to achieving inclusive innovation and solutions. So, on International Women's Day (and beyond), my advice to women – and society – is to view everything from the lowest of the least common denominator, so we can create more empathy-driven solutions that will work for the most under-represented segments of society as well."