Jaguar Land Rover and NVIDIA partner for autonomous driving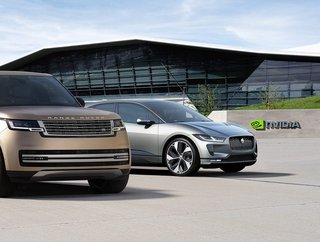 Jaguar Land Rover has partnered with AI company NVIDIA to install technology in its vehicles to enable driver assistance and autonomous driving features
NVIDIA, a leader in artificial intelligence (AI) and computing, has formed a multi-year strategic partnership with the luxury automaker Jaguar Land Rover.
The two companies will jointly develop and deliver next-generation automated driving systems plus AI-enabled services and experiences for its customers.
Jensen Huang, NVIDIA founder and Chief Executive Officer, said: "Next-generation cars will transform automotive into one of the largest and most advanced technology industries. Fleets of software-defined, programmable cars will offer new functionalities and services for the life of the vehicles. We are thrilled to partner with Jaguar Land Rover to reimagine the future of transportation and create the most advanced cars."
Developing autonomous vehicles
All new Jaguar and Land Rover vehicles will be built on the NVIDIA DRIVE software-defined platform, starting in 2025, delivering a wide variety of active safety, automated driving and parking systems as well as driver assistance systems.
The system inside the vehicles will deliver AI features, including driver and occupant monitoring, as well as advanced visualisation of the vehicle's environment.
Jaguar Land Rover will leverage in-house developed data centre solutions with NVIDIA DGX for training AI models and DRIVE Sim software built on NVIDIA Omniverse for real-time physically accurate simulation. Jaguar Land Rover's software-defined features and its end-to-end verification and validation architecture will enable the delivery of innovative assisted and automated driving services throughout the life of the vehicle via over-the-air software updates.
Thierry Bolloré, Jaguar Land Rover Chief Executive Officer, said: "Collaboration and knowledge-sharing with industry leader NVIDIA are essential to realising our Reimagine strategy, setting new benchmarks in quality, technology and sustainability.
"Jaguar Land Rover will become the creator of the world's most desirable luxury vehicles and services for the most discerning customers. Our long-term strategic partnership with NVIDIA will unlock a world of potential for our future vehicles as the business continues its transformation into a truly global, digital powerhouse."
Accelerating towards net-zero emissions
While there was an estimated total of around 31.4mn autonomous cars globally in 2019, this number should increase to some 54.2mn in 2024.
Last year, Jaguar Land Rover partnered with COP26 ahead of the vital climate change summit in Glasgow in November. The company provided a fleet of electrified vehicles to world leaders and delegates attending the summit, including the multi award-winning all-electric performance SUV Jaguar I-PACE, as leaders and their teams traveled to and from the venue.
Jaguar Land Rover aims to achieve zero tailpipe emissions by 2036, and net-zero carbon emissions across its supply chain, products and operations by 2039. The company has also committed to a 1.5 degree aligned science-based target to reduce emissions in line with the Paris Agreement and supporting the UNFCCC Race to Zero.
(Image: NVIDIA)
Join global business leaders and sustainability experts taking meaningful action at Sustainability LIVE, held at Tobacco Dock, London, 23-24 February 2022. Register to attend today! Click here to learn more.