Jeff Bezos set to fly to space in Blue Origin flight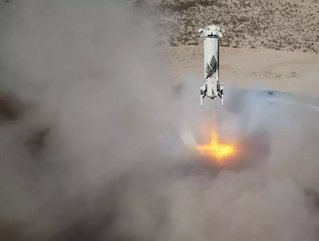 Jeff Bezos and his brother Mark will be on board the New Shepard vehicle's first crewed flight to space on 20 July
Jeff Bezos, Amazon founder, will be flying to space on the first crewed flight of the New Shepard, the rocket ship made by his space company, Blue Origin. He will be joined by his brother, Mark Bezos, and the winner of an online auction Blue Origin is hosting, which currently stands at $2.8 million as the highest bid for that seat.
The final phase of the auction, set for June 12, will include live online bidding from remaining participants who bump their existing bid to match the high offer. The flight is scheduled for July 20th, "Ever since I was five years old, I've dreamed of travelling to space," Bezos, said in an Instagram post.
According to Blue Origin's website, the company plans to launch its passengers more than 100km (62 miles) above the Earth's surface, allowing them to experience microgravity. The six-berth capsule will return to Earth under parachutes.
Named after Mercury astronaut Alan Shepard, the first American to go to space, New Shepard is Blue Origin's reusable suborbital rocket system designed to take astronauts and research payloads into space.
What is Blue Origin? 
Blue Origin is a privately funded aerospace manufacturer and sub-orbital spaceflight services company, founded in 2000 by Jeff Bezos. The company has the vision of enabling a future where millions of people are living and working in space to benefit Earth.
Blue Origin believes, in order to preserve Earth, that humanity will need to expand, explore, find new energy and material resources, and move industries that stress Earth into space. The company is working on this by developing partially and fully reusable launch vehicles that are safe, low cost and serve the needs of all civil, commercial and defence customers.
They have been flight testing the New Shepard rocket and its redundant safety systems since 2012. According to the company, the programme has had 15 successful consecutive missions including three successful escape tests, showing the crew escape system can activate safely in any phase of flight.
Both New Shepard and New Glenn (an orbital launch vehicle), have been designed with reusability in mind. Their vertical take-off, vertical landing architecture enables Blue Origin to reuse the first stage of the launch vehicles with minimal refurbishment. Both vehicles have throttleable liquid-fueled engines, that allow for precision landing back on the landing platform.