Magic Leap: Using AR technology to solve business challenges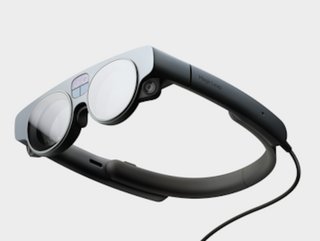 As more companies make the move into digital worlds, we take a look at Magic Leap and how it is creating augmented reality (AR) to connect businesses
With a vision of the physical and digital world being one, Magic Leap is creating a powerful augmented reality platform for enterprises.
Founded in 2010, the company is on a mission to amplify human potential by delivering the most immersive AR platform, so people can intuitively see, hear, and touch digital content in the physical world.
Its augmented reality (AR) technology enables global teams to collaborate remotely with co-presence, conduct reviews aided by 3D visualisation, and offer real-time remote expertise to frontline workers. The US-based startup is innovating in the AR space to create new hardware and software that will give its users a 'never-before-seen' AR experience and redefine how we access screens and visualise data.
It's important to understand that there is a difference between virtual reality (VR) and AR. VR involves wearing a fully enclosed headset through which users are completely immersed in a digital world. AR uses glasses or headsets through which users can still see the real world around them, with digital information integrated within that environment.
A study from PwC predicted that by 2030, AR will be responsible for a US$1.1tn boost to the worldwide GDP. It's anticipated that the US will benefit from the use of AR more than any other country, with an additional US$380bn expected to be added to its economy.
Introducing a new AR headset
Expected to be released in Q3 this year, Magic Leap 2 (ML2) is the company's latest augmented reality headset that enables direct interaction with 3D digital content in the physical world.
According to the company, this new form of computing unlocks enterprise applications across the healthcare, manufacturing, construction, engineering, and education sectors. ML2's design is 20% lighter and 50% smaller in volume than Magic Leap 1. The Magic Leap 2 uses an AMD-based processor this time, which the company claims is more powerful than the Nvidia-based silicon used in its original headset.
Creating tailored solutions for customers
Magic Leap recently partnered with Globant, a digitally native company focused on reinventing business through innovative technology solutions, to develop and deploy tailored software solutions for enterprise customers.
The two companies aim to accelerate business adoption of Augmented Reality (AR) with greater speed, scale and impact, by combining Magic Leap's advanced spatial computing platform with Globant's software development capabilities. Magic Leap will also provide Globant's software development team with access to its technology portfolio – including the upcoming Magic Leap 2 device – to co-design AR-enabled solutions uniquely suited to the needs of each enterprise customer.
"AR and spatial computing will be critical to the future of business and work. However, there is still not enough industry investment to fully realise the technology's transformative potential. We're working to solve this problem by strategically cultivating a cohesive and agile innovation ecosystem with Globant to bring our best-in-class AR technology into the mainstream," said Peggy Johnson, CEO of Magic Leap.