New immersive experience encourages commuters to de-stress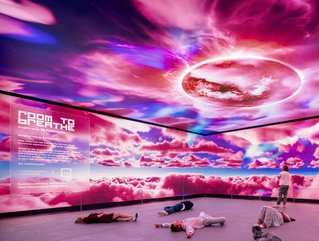 A new mindfulness experience created by Pixel Artworks has opened in central London to help calm commuters
A free mindfulness experience created by immersive experience company Pixel Artworks has opened at Tottenham Court Road to help bring calm to London's commuters.
Room to Breathe is a sensory experience based on the science of 'box-breathing' and aims to help anxious commuters and busy people in the city unwind.
Tom Burch, Managing Director at Pixel Artworks comments: "Society has never been as anxious as it is today, and the stress associated with commuting and returning to work in the office is a well-known trigger point. Based on this knowledge, we felt compelled to create an experience that can help calm people's minds and educate them on the benefits of box-breathing, arming them with tools to manage every day stress. Outernet London is at the epicentre of experience innovation, and we are proud to be an official production partner to deliver immersive experiences that audiences are in awe of."
Creating immersive experiences
Established in 2005, Pixel Artworks uses light and pixel technology to develop shared experiences for retailers, brands and entertainment venues. Its immersive artworks offer the opportunity for physical and digital interaction together.
Jayne Cox, a leading trauma and anxiety consultant fed into the experience using her knowledge and understanding of how breathing exercises, like 'box breathing' reduce anxiety.
Cox comments: "Anxiety and stress often changes the way we breathe, with our breath often becoming rapid and shallow, resulting in heightened anxiety and becoming 'stuck' in a state of fight or flight. Learning and regularly implementing a simple breathing technique reduces anxiety by helping us to have more control over our breath. Once learnt, these techniques become a 'tool' that support us anywhere, whether we are on the move or at home."
Accompanying the visual cues of rolling clouds, calm skies and the sun, there is also original music written by Matthew Wilcock.
The experience will take place in Outernet London's NOW Trending building. The Outernet is a global network of central city hubs designed to elevate the culture and commerce of cities through immersive digital experiences. Outernet London's campus comprises two huge immersive public spaces - The Now Building and Now Trending. Each space features 16K, 360-degree floor-to-ceiling screens to deliver audio-visual experiences,
Philip O'Ferrall, CEO of Outernet Global adds: "Room to Breathe is a perfect example of how we can use the digital immersive capabilities of Outernet London. It will give visitors a tranquil experience to forget their stress and reflect. It's really something beautiful to achieve with Pixel Artworks right in the heart of busy central London."
Entering new worlds
Immersive technologies create new ways of displaying and interacting with applications, content and experiences. It has transformed digital experiences by bringing together the virtual with users' sight, sound, and even touch.
The continued development of immersive technologies has already had an impact on the economy and in many industries because they offer new and exciting ways of interacting, analysing, and creating. In its Seeing is Believing report published late last year, PwC predicts that immersive technologies have the potential to deliver a $1.5 trillion boost to the global economy by 2030.
The metaverse is one type of immersive experience which companies are globally buying into. The metaverse is a digital environment where visitors can shop, socialise, train for their jobs, play games, take classes, attend meetings, have cultural experiences and more.