Nike creates a virtual world with Roblox named 'Nikeland'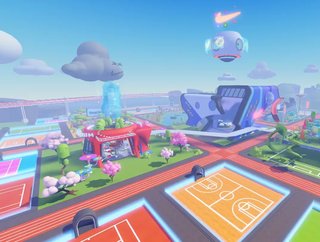 Nike has become one of the first major brands to enter the "metaverse" with a virtual world named 'Nikeland'
Sportswear giant Nike has revelaed a new virtual world titled "Nikeland", launched on video game platform Roblox. 
Becoming one of the first major brands to enter the 'metaverse', it builds on its goal to turn sport and play into a lifestyle. The bespoke environment created by Nike transforms the brand into an immersive 3D space with Nike's World Headquarters in the background. Buildings and fields in the virtual world are directly inspired by real-world locations, including areas where gamers can compete in mini-games.
Visitors can participate in games such as tag, the floor is lava, and dodgeball with their friends, but with the NIKELAND tool kit, creators can easily design their own mini-games from interactive sports materials.  There are even rewards like Blue Ribbons and Gold Medals for competing in yards, building a yard, exploring, and finding Easter eggs. Blue Ribbons are used to get building materials for yards, and Gold Medals unlock virtual products for avatars.
What else does the virtual world include? 
'Nikeland' is free for anyone to visit, provided you have a Roblox account and allows consumers to create an avatar they can decorate with real Nike products. The virtual world has a digital showroom that allows in-game avatars to select Nike products. Items include Nike Mercurial Football Boots, Air Force 1, Nike Blazers, and many classic Nike apparel.
Nikeland visitors can also take advantage of accelerometers in their mobile devices to transfer offline movement to online play. For example, you can move your device and body IRL to pull off cool in-game moves like long jumps or speed runs.  
Nike's virtual world will also be brought to life at the company's New York hub with a special Snapchat lens. This will allow people visiting the kids' floor of the store to walk into an augmented reality version, which will include signature avatars, games, and Nikeland Easter egg hunts. 
Businesses delving into the metaverse
The concept of metaverse has appeared with investments worth billions of dollars from firms including Facebook, Microsoft, Roblox and Epic and is seen as the next level of the internet.
Through metaverse, companies hope to offer a new fictional universe that can be accessed via the internet. Globally, the metaverse market is expected to bring in over $6 billion for 2021 and more than $40 billion by 2026, according to research firm Strategy Analytics.