Plume: In-home connectivity of the future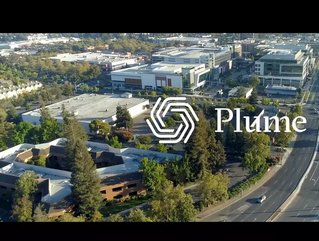 Plume provides a feather in the cap for Swiss-based Sunrise UPC as they pave the way for fast in-home connectivity with Wi-Fi pods and 6G
Millions of Swiss customers look set to benefit from the partnership between Plume and Sunrise UPC as they move towards faster in-home connectivity with WiFi Pods and 6G.  This follows the recent merger of UPC and Sunrise who are working to expand the next-generation network structure.
The move to partner with Plume, which offers an Intelligent Wi-Fi Plus service that provides fast broadband speeds for homes, is vital at a time when high-speed, safe, reliable WI-FI has never been more important as more people are working remotely due to the pandemic.
So how does it work? Plume offers fast Wi-Fi, not through mesh, but through ADAPT which offers a new level of dynamic response and signal steering. Beyond just coverage ADAPT uses AI and machine learning to map Wi-Fi channels and usage around the home, learning from a customer's connection patterns how to distribute Wi-Fi perfectly.
The Wi-Fi pods are powered by Plume's award-winning SaaS experience platform  that combines sophisticated cloud management, AI technology, and OpenSync™ open-source software, to enable proactive management of a subscriber's smart home experience. 
Fabrizio Campanale, VP Entertainment & In-Home, Technology & Innovation Sunrise UPC Switzerland welcomed the partnership. "Plume is the frontliner and most promising innovator in this technology. We have, as Liberty, invested in Plume as we share their vision for the future and that journey towards a cloud-managed service for the best in-home connectivity quality of service.
"We have a privileged relationship with Plume as Liberty is one of the shareholders, and offers the most promising and successful revolutions in Wi-FI technology," said Campanale.
Headquartered in Silicon Valley, California, Plume serves more than 30 million homes in 22 countries. "We discuss directly or indirectly (through our corporate technology teams) for the integration of the features either in the Firmware or in the Cloud infrastructure, or dedicated functionality for the so-called touchpoints: mobile Apps that control the In-Home devices for instance.
Commenting on incorporating Plume following the merger Campanale said UPC had already initiated the use of in-home products.  
"We started the integration of Plume technology in our products with LGI a few years ago. We built the centralised Cloud service with Plume and the Firmware on our Connect Box modems which polls technical KPIs from the devices to monitor the performances and eventually activate functions like dynamic band-steering for instance. 
"We are now introducing the Plume  Wi-Fi extenders replacing the old Powerline technology in the home and we will progress harmonising the products and extending these functionalities to all products, including the Sunrise ones.
"As we move forward we want to extend the advantages of the cloud-managed service we have for the UPC existing modems and the Sunrise ones so we can provide the best integrated offer to our customers, both existing and new ones." 
Campanale pointed out that Sunrise UPC only partnered with "best in class cloud services" for both entertainment and in-home internet. "The in-home network has evolved during the past year and can be quite complex for the customer but this environment offers support tools that off-load the complexity from the customer and improve the quality of experience," he said