Powering the rise of smart manufacturing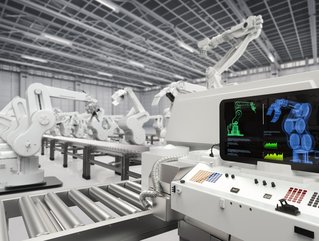 Powering the rise of smart manufacturing Increased competition, intricate regulatory requirements and heightened safety de...
Powering the rise of smart manufacturing
Increased competition, intricate regulatory requirements and heightened safety demands are all putting pressure on the manufacturing industry. Facing these challenges and excelling in this competitive and complex environment calls for a new age of manufacturing – one that is founded on cutting edge technology and able to protect people, environments, physical and intellectual properties whilst making the most of existing infrastructures.
Current manufacturing methods pose risks and limits to business operation and, in cases of production, human life. As such, a business-as-usual approach is no longer a viable option for manufacturers. Companies must actively seek out next-generation technology that is able to empower their businesses. Using technologies such as IoT, big data, HPC, edge and cloud computing, machine learning, AI/AR, as well as new low latency wireless technologies, organizations can connect manpower, application systems and intelligent machinery. There are a number of ways manufacturers can do this:
Modernising production
The challenges in production lie in implementing new and leading edge technology into infrastructures that may have existed for decades. For example, many production plants are set in network-problematic locations, which can seriously compromise connection, transmission and device performance. Forefront technology applicable to production relies on dynamic bandwidth allocation to ensure real-time, reliable and high quality video systems and Big Data analytics. Super-low-latency communications are necessary for process control and environmental systems. However, most production plants currently work on outdated technology unable to guarantee the reliable foundations necessary for outstanding operations, despite high-pressure demands. 
New methods to overcome these issues include wireless factory solutions for broadband and narrowband use cases. Agile network systems, such as those developed and provided by Huawei, enable manufacturers to implement cutting edge systems based on Huawei's OneAir solutions that combine eLTE and eLTE-IoT technologies, with flexible, distributed wireless networking in both licensed and unlicensed spectrum. High broadband and low-latency are ensured to provide production with future-proof systems able to empower existing infrastructures with leading technology. Huawei is also leading the development of ultra low-latency 5G wireless communications that will be implemented in the smart factory of the future where, for example, there will be increased deployment of wireless factory robots and other machinery that will require time sensitive wireless networking.
Data centres
Enabling effective collaboration within an enterprise and among its partners, vendors and customers is key – and data centres based on Hybrid Cloud architecture and built with the latest HPC technologies, can facilitate the monitoring, overseeing and controlling of business processes. Ensuring that data centres are fully connected to the manufacturing processes is vital.  This must be done with the right interconnections, appropriate capacity, reliable data backup and data loss recovery, end-to-end management capabilities, opportunities for scalability and of course, faultless cybersecurity provisions.
Collaborative and secure R&D networks
Research and development (R&D) activities work best when information can be shared seamlessly and securely across departments or regions. This calls for improved communication between the intranet and extranet. Typically, R&D faces issues of high or complicated network deployment costs and network O&M, limited work efficiency, and security risks to highly sensitive data. Deploying intelligent technologies to empower R&D activities is not only a matter of improving business performance and facilitating innovation – it is also a critical question of protecting the technological milestones that enterprises reach and providing a very high level of security within the private or hybrid cloud.
Information security management
Although data carries the risk of a security breach, the collaborative advantages of connectivity far outweigh the risks, when the right security measures are in place. Modernised security management must help support the manufacturing process by offering external interface management control, unauthorised terminal access control, USB storage device and mobile terminal data encryption as well as remote data clearing capacities. The key is to make data secure and comply with data protection and sovereignty laws.
 Embracing the digital era
New technologies will only continue to emerge for smart manufacturing, helping to connect the industry and create a network of systems that work in accord for optimised safety and outstanding performance. Key players in the field have begun to integrate systems to enable networks to work in real-time collaboration – Huawei, one of the world leading ICT providers, has committed to enabling digital transformation through efficiency and innovation.  Through deploying the Terminal Security Management (TSM) system to divide intranet into separate logical parts, Huawei was able to facilitate centralised system management and domain based security for FAW-Volkswagen. This provided the vehicle manufacturing company with the tools to protect their massive network resources. In another case, Huawei provided Midea Group with the data back-up solutions able to facilitate valuable IT infrastructure improvements, meeting not only the needs of current business, but also allowing for potential growth requirements.
Manufacturing processes are yet to undergo a much needed technological revolution that begins at the foundations of operation. Only by embracing the digital era can enterprises in this sector safely and efficiently keep up with current demand and aspire to future growth, creating the next era of smart manufacturing.
Karabet Krikorian, Head of WEU IoT & Industry 4.0 Solution Innovation, WEU Solutions Management, Huawei Technologies