Remote medicine: drones deliver healthcare to developing countries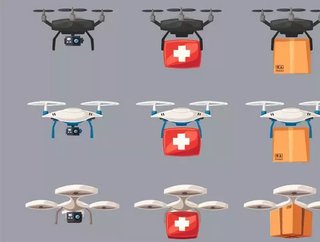 Nigel Whittle, Head of Medical & Healthcare at Plextek, explores how disruptive technologies have the potential to transform the lives of millions i...
Nigel Whittle, Head of Medical & Healthcare at Plextek, explores how disruptive technologies have the potential to transform the lives of millions in areas where access to health care is limited.
Much has been talked about with regards to the use of drones, or Unmanned Autonomous Vehicles (UAVs), for the delivery of commercial products. Back in 2013, Amazon's Jeff Bezos claimed that drones would soon become 'as normal as seeing mail trucks on the road'. However, this is yet to come to fruition and in reality, still seems to be a long way off.
In the meantime, the use of drones has quietly moved forward in another very significant sector. So, is the sky the limit when it comes to healthcare?
Earth versus sky
One of the biggest challenges facing the provision of affordable healthcare in the developing world is the patchy distribution of facilities and expertise. In particular, remote rural areas, as well as presenting environmental demands, often lack trained healthcare workers due to the difficulty in attracting practitioners. Many of the better educated and skilled locals migrate to the cities.
This problem is then compounded by the poor infrastructure of roads and other transport networks. As a result, it is not uncommon for patients, irrespective of age and physical health, to walk many miles over harsh terrain to see a healthcare practitioner, who themselves may have limited resources at hand. That walk may have to be repeated several times for further diagnosis and treatment. Recent examples of extreme weather events can render land transportation in any form hugely demanding.
But a paradox of developing countries is that they are actually often capable of leap frogging more advanced economies through infrastructure developments in the same way mobile networks have rapidly supplanted fixed line networks in numerous countries.
In the same way, disruptive technologies have the potential to transform the lives of millions of people living in countries where access to any form of healthcare is limited.
The main reason for this is that many novel diagnostic technologies are being designed for use at the actual point of care where the need is most acute, rather than for centralised hospital and laboratory facilities found commonly in the developed world. An example is the rapid and affordable DNA-based tests for infectious diseases, which not only provide sensitive indications of exposure to pathogens, but can also indicate the correct course of treatment for a particular problem.
SEE ALSO: 
Drones come into the equation by being able to bypass tough terrain and cover large distances without the restrictions and logistical risks associated with the reliance on transportation on the ground. They are able to deliver appropriate diagnostic tests and medicines to the patient faster and more safely while reducing the need for arduous treks.
The future is flying high
A number of developing countries are already deploying the use of drones to transport drugs, vaccines or medical aids and even blood. Perhaps one of the most impressive examples is Zipline International, a Silicon Valley start-up which uses the technology to support medical clinics in Rwanda. This system of delivering life-saving medicines and other health treatments has been so successful since its inception in 2016 that it is now also being rolled out in Tanzania.
It works simply by health workers based at remote clinics and hospitals texting orders for necessary medical products to Zipline. Within minutes they are loaded from distribution centres onto the drones, arriving by parachute just 15 minutes later for a journey which would previously have taken four hours. This agile supply chain can make a massive difference in the provision of critical healthcare to patients and at the same time empowers the doctors themselves.
This tried and tested success means it is likely that using drones for the distribution of high-value and diagnostic items in remote and adverse environments will only grow in demand and expand going forward. This in turn will lead to an increasing need for enhanced control and navigation systems.
Technology companies will need to design their drones specifically for this work and create the associated required solutions to take advantage of the potential demand. This could mean miniaturised systems with minimal size and weight but with the right power factors for successful and safe deployment and delivery.
Unmanned drones give us a remarkable example of how technology used in one part of the planet for one particular 'first world' industry can be used in a totally different geographical region for the provision of life saving care in another one. Their use in medical care can be for both routine requirements or in crucial scenarios where time is of the essence, such as during natural disasters or in medical emergencies.
Overall, we can expect to see an overhaul of quite significant proportions in the delivery of vital health care in many parts of the globe, which have for so long been restricted by physical and topographical constraints.
About Plextek 
Based near Cambridge, UK, Plextek designs new products, systems, and services for its clients in a diverse range of industries including defence & security, medical & healthcare, and wireless communications.
Central to its culture is the company's ability to innovate, taking an idea from concept to market. For more than 30 years the team of consultants, engineers and project managers has turned our clients' business opportunities into commercial success, designing, manufacturing and supplying leading-edge products. Supported by our network of suppliers, commercial partners and research organisations, Plextek is the trusted partner of choice for more than 300 commercial clients, government agencies, and ambitious start-up companies.