Remote workforces and the need for centralised technology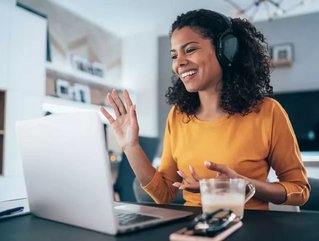 As the world navigates the COVID-19 pandemic, remote work is becoming a feasible option for traditionally-focused office cultures...
As the world navigates the COVID-19 pandemic, remote work is becoming a feasible option for traditionally-focused office cultures. Many companies have announced permanent remote working policies and flexible work location programmes after observing positive results in productivity and employee morale. Although remote work is not for everyone, companies are realising the cost advantages of fewer office footprints and hiring remote employees in lower-cost locales, as well as increasing business resiliency effectiveness and flexibility that go beyond historically-assessed regional disruptions.
Successful remote work environments do not happen overnight. Culture, policies, data security, and technology are just a few considerations for fostering an efficient remote workforce. A dispersed employee base greatly increases the importance of centralised technology to foster high levels of collaboration, workflow efficiency, and data insights. For decades, sales departments have focused on deploying high availability solutions for salespeople constantly on the road. However, a centralised approach enables remote work from finance, legal, operations, and other stakeholders involved in turning opportunities into profit. 
Secure, cloud-based technology 
High availability requirements have come in the form of cloud-based applications that can easily address load factors, server redundancy, and centralisation of information. However, as the number of cloud providers have increased in the marketplace, so have concerns for data breaches, compromised access, and other events exposing companies to liability and loss of intellectual property. Cloud solutions have come a long way since their introduction, but companies continue to associate cloud with security concerns.
A truly secure solution addresses security head-on for both application and server-level concerns. From compliance certifications – like SOC, ISO, and Department of Defense (DoD), to independent third-party penetration tests – companies should have comprehensive information security reviews to assess vendor risks. When done correctly, businesses will discover that secure cloud-based solutions can foster centralised tools for a decentralised workforce, while minimising information technology risks.
Permissions and access controls
Translating traditional physical access to technological controls is not an easy feat. Without physical doors and keycards, companies need ways to control access to key assets while maintaining flexibility. Whether it is a physical firewall or administered permission sets, there will be trade-offs to selecting one versus the other.
Controlling authentication is not always a binary decision. Myriad methods restrict access to resources: VPN, IP Ranges, Two-Factor Authentication, and Single Sign-On (SSO) to name a few. It is critical for companies to balance security versus accessibility. For example, requiring VPNs may hinder ease of use on mobile devices, but relaxed authentication policies may allow personal devices with compromised security on the company network. Although most of these policy decisions have already been made, they would need to be reviewed and hardened as a larger remote workforce increases access points.
Data access also goes beyond binary decisions. For example, contract records may require full access by attorneys, but a subset of data should be available for non-legal teams to provide certain data points, or simply as read-only, self-service to see current status. Instead of having functionality simply on or off, subsets of permissions may be better suited for collaboration when needed. Any solution should accommodate for access controls beyond a two-position switch.
For data access, businesses should use a field-based methodology approach to allow admins to apply permissions to each field or record for read/write, read-only, delete disabled, and other varieties of permissions to ensure access meets company policies. As such, permissions are handled at a profile level to allow fewer permission sets to be distributed amongst many users. The goal is to remain compliant across the company while allowing for flexibility to maximise employee efficiency.
Business processes guided through workflow and automation
There is a theory that the further an employee is from headquarters, the less the training sticks. As a workforce of lone wolves, remote employees tend to rely on personal connections made within the company or try to "figure it out" when training and documentation is either insufficient or forgotten. Effective solutions address this deficiency by creating intuitive user interfaces for ease of navigation. However, the best solutions enable companies to configure workflows and automation to align with their business processes, as opposed to limiting processes due to technical constraints.
Intuitive workflows ultimately drive adoption and efficiency. When these workflows incorporate the nomenclature and language of the business, they lower learning curves by minimising the need to translate business speak into technical diction. The ability to configure solutions to conform to the business makes it easier to find information, perform actions, ensure accurate data entry so employees can rely on tools to be complete sources of truth, rather than a frustrating piece of a complex puzzle. Automation further reinforces a positive user experience by minimising repetitive clicks and unnecessary data entry.
Driving success with a remote workforce
Businesses today can drive employee effectiveness through intuitive interfaces and business-purpose configured tools to drive user adoption. There are many challenges associated with running an effective, decentralised company, on a centralised mission. However, as companies transform to operate in a new normal, a centralised approach to technology will enable businesses to continue operating successfully with a remote workforce.