Starship Technologies raises US$100mn for autonomous robots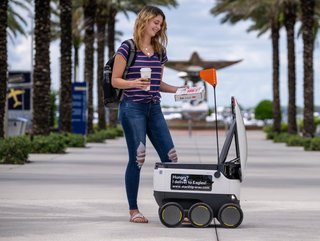 After recently raising US$100mn, Starship robots are changing delivery services by using technology combined with experience providing services
A leading provider of autonomous delivery services, Starship Technologies, has raised US$100mn in the last 30 days, including a new US$42mn Series B funding round led by the Japanese-Nordic VC firm NordicNinja and the Estonian powerhouse Taavet+Sten.
The Series B funding will help Starship further scale its service and meet increasing demand for its autonomous delivery service by launching in new cities in North America and Europe, including tens of university campuses in the U.S. Some of this funding is immediately going to support people by donating directly to the Red Cross in Ukraine.
Autonomous robots for food deliveries
Starship Technologies is changing deliveries with autonomous robots. The robots are designed to deliver food, groceries and packages locally in minutes. According to the company, the delivery robots have travelled millions of miles and completed three million autonomous deliveries around the world.
The new investment, including the recently announced €50mn (US$57mn) investment from the European Investment Bank (EIB), doubles the company's funding and brings Starship's total funding to US$202mn. Other investors in Series B include TDK Ventures, and Goodyear.
Starship tripled deliveries in 2021 and is continuing to gain momentum as the entire autonomous delivery industry expands. The size of the autonomous delivery robot market is expected to reach US$55bn by 2026 with a CAGR of 20.4%, according to Facts & Factors.
Rapidly increasing demand in the delivery market
"The autonomous delivery market has been gaining momentum the past couple of years and we think it will really take off this year," said Alastair Westgarth, CEO of Starship Technologies.
"The demand for Starship's services continues to rapidly increase and we are regularly contacted by more college campuses and cities that want our services, often because they hear about the great results that Starship is already delivering. I'm impressed with every member of our team who believes in what we are doing and has helped us hit yet another milestone of three million commercial deliveries. I also appreciate the investors who trust our vision and who are helping us get to the next phase of our journey."
Since Starship invented the delivery robot in 2014, the industry has become more competitive which the company feels is a compliment to the hard work it has put in after the last couple of years.
"We know this industry inside out, because we invented it," said Ahti Heinla, co-founder and CTO of Starship Technologies. "So many unexpected things have happened to get us where we are today but I think we can all agree that on-demand services are mainstream and not going away anytime soon. While other companies in this space are busy making claims, we are gladly very busy making thousands of autonomous deliveries every day and improving the efficiency of our service."