TECH LIVE LONDON: Day 2 highlights of the hybrid tech show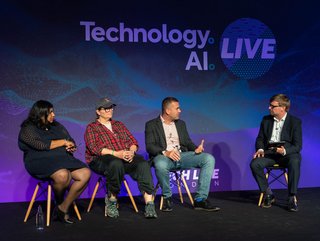 We take a look at some of the highlights of our final day at the Tech Live London show, including insights from Claroty, SalesForce and Oracle
Leaders, innovators and influencers joined Bizclik Media Group in London for the TECH LIVE LONDON hybrid event.
Incorporating four zones; Technology & AI LIVE, Cloud & 5G LIVE, Cyber LIVE and March8 LIVE, the two-day conference and technology showcase was available to attend virtually for viewers around the globe.
Inspirational speakers took to the live and virtual stages, delivering keynote presentations, debating in roundtables or discussing trends in fireside discussions and Q&A sessions. We take a look at some of the highlights across the four stages on the final day of the event.
Cyber stage
Opening day two on the cyber stage was Simon Chassar, Chief Revenue Officer at Claroty, who gave a keynote presentation on managing cyber risk and XIoT. Chassar explained how everything in the world is now becoming connected, which in turn is creating a huge threat landscape.
As there becomes more cyber attacks on the industrial industry, interconnected systems need to be protected, as the impact on society as a whole can be detrimental. He went on to explain the anatomy of an attack with Claroty from the company correlating data from the engineering workstation, through to continuous asset monitoring. Sharing statics from Claroty's recent CISO survey, Chassar explained how 80% of organisations experienced a ransomware attack in the last year, with 50% of ransomware payments exceeding US$500,000.
Later on in the day Simon Chassar was back on stage, joined with Ian Lilleby was works as Group CISO at Sonnedix Group and also Rob Dyson, Global OT & IoT Security Services Leader at IBM. They discussed technology innovation, creating the right security policies for remote workers and the ever increasing malware attacks.
Dyson explained: "It's an exciting time to work. We get to participate in this digital transformation, but we need to manage these vulnerabilities."
Lilleby added: "We need to be putting in place capabilities that can function in this new environment."

Cloud & 5G stage
Tara McDaid, Regional Vice President Sales at SalesForce, took to the stage to speak about how marketplaces can unlock 5G monetisation. McDaid explained that a marketplace is any platform that connects the buyers and sellers of goods or services with each other and provides infrastructure to facilitate a transaction.
"Accelerating monetisation of 5G requires evolution across organisational units," she explained, adding that a collaboration between all stakeholders, such as customers, employees, partners and developers is critical.
Robert Franks, Managing Director at WM5G, has overseen the programme's movement from mobilisation to delivery, promoting the advantages of 5G and accelerating updates across the region. Taking to the stage, he explained all about the company's plans and unlocking the future with 5G.
In the healthcare industry, some of the ways WM5G are using 5G to transform patient care is through remote ultrasounds and full remote ward rounds. The company is also using 5G to help reduce congestion and pollution, and also improve passengers' experiences.
March8 stage
Paulina Laurie, Head of Women in Tech at Frank Group Recruitment and Samantha Humphries, Head of Security Strategy, EMEA at Exabeam, took to the stage to discuss barriers of recruiting women in Science, technology, engineering, and mathematics (STEM).
Laurie explained that barriers seem to start at a young age with stereotypes, but that it can also continue into the workforce, with people often thinking "If I cannot see it, I cannot be it."
The pair of them expressed that reaching out to people is a great way to get into the industry and find role models. "The power of the network is huge, the more people you meet, the more opportunities you find," added Humphries.
Natalia Nicholson, founder of Women in Digital Media, broke down what it means to create a successful business plan, while highlighting the importance of creating space for diversity in technology. The key question: 'how do we make women Saas and tech businesses profitable?'
Towards the end of the day Samantha Karlin gave a keynote presentation entitled 'An Ethical Revolution in Tech', speaking about AI perpetuating bias and or false belief of emerging technologies being neutral. She urged the audience to focus on being empathetic and protecting 'feminist leadership.'