The Ultimate Enterprise Technology & AI & Cyber LIVE Event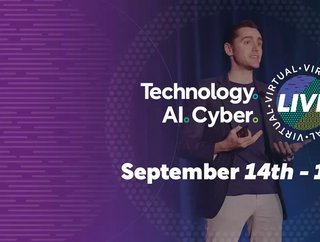 New speakers announced for Technology & AI & Cyber LIVE Event, where innovation meets implementation, coming to you live from London
Do you want to build high-level relationships, gain insider knowledge and leave with the tools you need to drive effective digital transformation within your business? Then you don't want to miss out on the must-attend hybrid event of 2021 for leaders in forward-thinking enterprises.
At Technology, AI, and Cyber Live, you will be able to hear and engage with C-Level executives at Microsoft, IBM, Salesforce, Capgemini, and more.
How can you attend?
In the post-Covid era, not everybody wants to travel for events. So Technology & AI will be completely hybrid. That means you can attend the event in person or virtually, with no disadvantages to people who don't make the trip to the Tobacco Dock.
In-person
Technology and AI Live is happening in the Tobacco Dock in London, a ten-minute walk from Tower Bridge. For more information on the location, click here. 
Virtually
There's no need to worry about missing out if you choose not to attend in person. You can still absorb all the information, interact with other attendees and enjoy the conference experience on our virtual platform. 
There will be live feeds from all of the stages (also available on-demand after the event) as well as virtual networking areas. So not being able to travel is no reason to miss your chance to gather with the industry.
New Speakers
Chief Digital Officer at HGC Global Communications
As the Chief Digital Officer for HGC Global Communications Jacqueline Teo is is responsible for technology and digital capabilities for customers and internal staff. This includes strategy, roadmap, architecture, delivery, support services as well as P&L accountabilities. 
Over the last 25 years, she has led significant technology transformations across large and complex organisations. She has held several C-level positions globally and has been a key player in creating industry game changes and shifting the paradigms for her customers. Leadership in the digital age and technology to improve society are her passions.
Chief AI & Data Strategist at Telefónica
Dr. Richard Benjamins is among the 100 most influential people in data-driven business (DataIQ 100, 2018).  Co-founder and Vice President of the Spanish observatory for ethical and social impacts of AI (OdiseIA), Richard was Group Chief Data Officer at AXA (Insurance) and before that held for 10 years executive positions at Telefonica on Big Data and Analytics. 
He is the founder of Telefonica's Big Data for Social Good department, expert to the EP's AI Observatory (EPAIO), member of the B2G data-sharing Expert Group of the EC, and a frequent speaker at Artificial Intelligence events.
A founding member of the editorial board of the Springer's AI Ethics Journal, member of the ETNO task force on Artificial Intelligence, and of the GSMA task force on AI for Impact, we can't wait to hear his insights on the industry. 
President and Chief Product Officer at Ivanti
Nayyar joined Ivanti from BMC where she was the president of the Digital Service and Operations Management Business Unit. While at BMC, she was instrumental in the transformation of the company's ITSM and ITOM product lines, launching BMC Helix, a cloud-agnostic containerised platform powered by cognitive technologies.
Prior to joining BMC, Nayyar spent over five years at SAP, where she was general manager and global head of SAP's Internet of Things (IoT) division. She assumed that role after holding strategy and senior management positions with SAP's Cloud, CRM and Mobile business units, managing large teams globally.
She holds a B.E. in mechanical engineering from Osmania University (India) and an M.S. in computer science from the University of Houston, and she is a graduate of the Stanford Executive Program.
For tickets and full agenda head over to our event site.