The Ultimate Enterprise Technology & AI & Cyber LIVE Event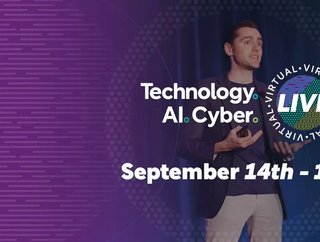 New speakers and sponsor announced for Technology & AI & Cyber LIVE Event, where innovation meets implementation, coming to you live from London
Do you want to build high-level relationships, gain insider knowledge and leave with the tools you need to drive effective digital transformation within your business? Then you don't want to miss out on the must-attend hybrid event of 2021 for leaders in forward-thinking enterprises.
At Technology, AI, and Cyber Live, you will be able to hear and engage with C-Level executives at Microsoft, IBM, Salesforce, Capgemini, and more.
How can you attend?
In the post-Covid era, not everybody wants to travel for events. So Technology & AI will be completely hybrid. That means you can attend the event in person or virtually, with no disadvantages to people who don't make the trip to the Tobacco Dock.
In-person
Technology and AI Live is happening in the Tobacco Dock in London, a ten-minute walk from Tower Bridge. For more information on the location, click here. 
Virtually
There's no need to worry about missing out if you choose not to attend in person. You can still absorb all the information, interact with other attendees and enjoy the conference experience on our virtual platform. 
There will be live feeds from all of the stages (also available on-demand after the event) as well as virtual networking areas. So not being able to travel is no reason to miss your chance to gather with the industry.
New Speakers
Chief Data Officer, Head Information Exploitation at The British Army
Brigadier Stefan Crossfield is the British Army's Chief Data Officer. He was part of the Army 2020 strategic planning team and responsible as a colonel for maximising personnel talent planning. He commanded 6 Battalion REME on Operation Herrick 18 and is equipped with over 25 years of successful management and leadership experience in the Armed Forces with a reputation for meeting the most challenging organisational objectives through teamwork and innovation.
He is also a Fellow of the Institution of Mechanical Engineers, holds an MSc in Information Systems and an MBA, and is an Associate Lecturer at the University of Exeter Business School.
Global CTO and Vice President at IBM
Dr. Jamshid Vayghan is IBM's Global CTO for engagements with Vodafone worldwide. In this role, he leads strategic engagements and collaborates with Vodafone and partners in support of Vodafone's strategic initiatives. Prior to his current role, Jamshid was Global CTO for Application Development and Innovation Services of IBM Global Business Services where he provided technical support for application modernizations including microservices, cloudification, and automation. 
You won't want to miss out on his speaking as his specialties to name a few, include Technical and Business Leadership, Cloud, Data, AI, Analytics, Software Engineering, and Digital Transformation.
New sponsor
Columbia Road is a leading technology consultancy specialising in digital sales. The company offers its customers holistic sales optimisation and automation, from customer acquisition to technical enhancing and building of digital channels, and customer nurturing. The company, currently employing 130 consultants in Finland and Sweden, has grown annually with an average growth rate of 70%, and operates as a part of the 700 people strong Futurice Group. The company has B2C as well as B2B clients, including companies such as Royal Unibrew, SAS and L'Oréal. 
We currently have FREE VIRTUAL TICKETS to the event due to the high demand for our in-person tickets. For tickets and full agenda head over to our event site.