The Ultimate Enterprise Technology & AI & Cyber LIVE Event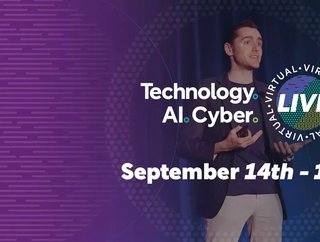 New speakers announced for Technology & AI & Cyber LIVE Event, where innovation meets implementation, coming to you live from London
We are now just 4 days away from Technology, AI & Cyber Live presented by Leidos, have you got your tickets? You don't want to miss out on the must-attend hybrid event of 2021 for leaders in forward-thinking enterprises.
At Technology, AI, and Cyber Live, you will be able to hear and engage with C-Level executives at Microsoft, IBM, Salesforce, Capgemini, and more.
How can you attend?
In the post-Covid era, not everybody wants to travel for events. So Technology & AI will be completely hybrid. That means you can attend the event in person or virtually, with no disadvantages to people who don't make the trip to the Tobacco Dock.
In-person
Technology and AI Live is happening in the Tobacco Dock in London, a ten-minute walk from Tower Bridge. For more information on the location, click here. 
Virtually
There's no need to worry about missing out if you choose not to attend in person. You can still absorb all the information, interact with other attendees and enjoy the conference experience on our virtual platform. 
There will be live feeds from all of the stages (also available on-demand after the event) as well as virtual networking areas. So not being able to travel is no reason to miss your chance to gather with the industry.
New Speakers
Kamran Khan

, Go to Market Leader – Workplace and CX at NTT

Roey Mechrez

, CTO and a Co-founder at BeyondMinds

Aishling Finnegan, Digital Transformation Officer at Conga

Shane Austrie, CEO at Silicon Valley Consulting

Boris Krumrey

, Global VP of Automation Innovation at UiPath

Rajiv Peter

, Director of Digital Technology at Notting Hill Genesis

Cevn Vibert

, Global Industrial Security at Cevn Vibert – Global Industrial Security Consultant

Lisa O'Connor

, Global Lead of Security Research and Development at Accenture

Durdana Achakzai

, Group Managing Director Digital Transformation at Vodafone
New sponsors 
Headquartered in San Mateo, California, Freshworks build and deliver software-as-a-service that's affordable, quick to implement, and designed for the end-user.
It has a dedicated team operating from 13 global locations to serve customers throughout the world. More than 50,000 companies use Freshworks' SaaS to enable a better customer experience and employee experience.
Founded in 1951, Iron Mountain Incorporated is a global leader for storage and information management services. It is trusted by more than 220,000 organisations around the world, and boasts a real estate network of more than 80 million square feet across more than 1,350 facilities in 45 countries dedicated to protecting and preserving what matters most for its customers.
Iron Mountain's solutions portfolio includes records management, data management, document management, data centres, art storage and logistics, and secure shredding help to lower storage costs, comply with regulations, recover from disaster, and better use their information. The company stores and protects billions of information assets, including critical business documents, electronic information, medical data and cultural and historical artifacts. 
Global IT specialist Arvato Systems supports major companies through digital transformation. The company has more than 3,000 staff in over 25 locations who epitomise in-depth technology expertise, industry knowledge and focus on customer requirements.  They develop innovative IT solutions, integrate digital processes, and take on IT systems operation and support. 
Being a Google Cloud Platform partner, Arvato Systems provides secure, flexible and scalable Google Public Cloud services for digital businesses. In addition to hosting and operations, they offer integrated and combinable AI-products and prefabricated AI-solutions together with the GCP.
Make sure you make the most of our COMPLIMENTARY VIRTUAL tickets today.