The Ultimate Enterprise Technology LIVE Event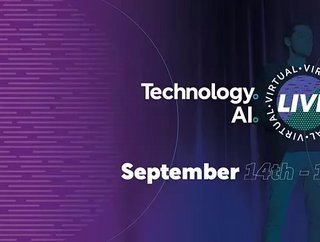 From global giants to innovative startups, this is your chance to jump onto the international stage
From September 14-16th, 2021, BizClik Media Group will host its cutting-edge Technology & AI Live event. Over three days, global industry leaders will join us for dynamic roundtable discussions, keynote addresses, and extensive networking opportunities. Simply put, we promise an event packed with strategy, analysis, and insight. 
By the end of the weekend, we'll hear from Nick Giannakakis, Global Chief Technology Officer at Motor Oil; Angela Yochem, EVP Chief Transformation and Digital Officer at Novant Health; Wayne Butterfield, Global Lead, Intelligent Automation Solutions at ISG Automation and Tom Raftery, Global Vice President, Futurist & Innovation Evangelist at SAP. And that's just the start of our speaker list. 
The event will include:
Keynote addresses from respected industry leaders

Dynamic live roundtables (inc. Q&A)

Fireside discussions

Inspirational Speakers & Presentations

Extensive networking opportunities
Meet the Speakers
Each week, from now until the event, we'll be announcing four new names who are set to grace our physical or virtual stage, prepared to share their knowledge and insight with attendees. 
Here's the first batch. 
Wayne Butterfield 
After spending over a decade leveraging new technologies, Wayne Butterfield is now ISG Automation's Global Lead of Intelligent Automation Solutions. A pioneer, thought leader, risk-taker, and mentor, Butterfield helps clients integrate RPA, OCR, virtual agents, and cognitive reasoning tech into their operations—driving efficiency and delivering corporate benefits. 
A regular speaker at UK, European, and US industry events, he specialises in intelligent automation, digital customer service, and artificial intelligence. Colleagues describe him as an all-around excellent team player, and Butterfield makes it clear that he's keen to help companies pursue their automation journeys. He pokes fun. "[I want to] make sure you don't make the early adopter mistakes I did". 
Angela Yochem 
Tapped as the EVP Chief Transformation and Digital Officer at Novant Health, Angela Yochem uses advanced computing combined with unprecedented access to data to solve clinical and operational challenges. Collaborating with Novant's Chief Medical Officer, she currently co-leads the company's Institute of Innovation and Artificial Intelligence. 
Throughout her career, Yochem has focused on business transformation, digital product lines, and global technology. It's incredible that she has any free time, but she's taken full advantage of it. Currently, she mentors incubator organisations on both US coasts, holds 3 US patents, and has published a book. "If you look up leadership in the dictionary, there should be a picture of Angela", wrote Andy Santacroce, VP and Deputy CIO for Tokio Marine North America Services. "[She] is at the top of the list of intelligent, driven, and compassionate leaders". 
Nick Giannakakis
Recognised as a Top 100 CIO of 2019 and an internationally experienced Global Chief Technology Officer, Motor Oil's Nick Giannakakis is making industry waves. Throughout his career as CTO, he's worked with globally distinguished brands such as Coca-Cola HBC, Richemont International (Cartier, Montblanc, Piaget), and SAP.  
Currently, he serves as an active alumni member of the Institute for Management Development (IMD), the MIT Sloan School of Management, and the London Business School—clear evidence that he's invested significant time in executive training. According to Giannakakis, this is just the beginning: "My quest to become the best senior executive possible will never end".
Tom Raftery 
From being in the sustainability, technology and social media industry since 1991, Tom Raftery has been able to obtain a deep insight into these expertise, alongside hosting the Digital Supply Chain podcast, the Climate 21 podcast and a weekly host for Tech for Good Linkedin Live Livestream, has enhanced Raftery's stance as an inspirational international keynote speaker.
Raftery is currently positioned as Global Vice President, Futurist & Innovation Evangelist at SAP, while he previously worked as an independent industry analyst focusing on the Internet of Things, Energy and Sustainability, and also as a Futurist for Gerd Leonhardt's Futures Agency. In addition, Raftery is a co-founder of an Irish software development company, a social media consultancy, and is co-founder of hyper energy-efficient data centre Cork Internet eXchange.
However, he didn't stop there, as he is now inspiring others with his substantial experience in the industry, being a guest lecturer at Instituto Internacional San Telmo and a board advisor for a number of startups. To buy tickets for this unmissable speaker, head over to our Event Page.