Is Virgin Hyperloop One going to change the supply chain game?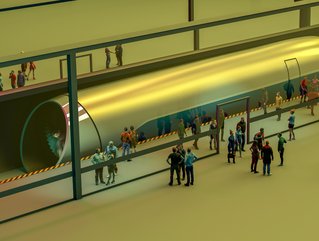 Welcome to Part Two of Supply Chain Digital's exploration of hyperloops, the potentially-revolutionary system of overground trans...
Welcome to Part Two of Supply Chain Digital's exploration of hyperloops, the potentially-revolutionary system of overground transport that's rapidly making its way towards adoption. This article follows up from our previous piece, which, as well as giving a quick history of hyperloops and 'vactrains', covered the recent announcement that Saudi Arabia and Virgin Hyperloop One will be collaborating to build a test track, along with hyperloop manufacturing, education and maintenance infrastructure as part of the Kingdom's Vision 2030 initiative. 
Here is a breakdown of the potentially industry disrupting impact points that the integration of hyperloops into global supply chain could have. 
Speed
So, let's say we get a hyperloop built in the kingdom that runs from the port city and modern commercial hub of Jeddah in the West, to the city of Dammam in the East. The 844 mile journey takes over 12 hours by road. With its projected top speed of 760mph, Virgin Hyperloop One's train could cut that travel time to just over an hour. 
In June, Port Technology magazine interviewed Ryan Kelly, Virgin Hyperloop One's Head of Marketing raised concerns about the current global supply chain's ability to measure up to the logistical demands of the coming years. "We are not poised to meet the demand of the coming decades. Today, on-demand deliveries are novel. Tomorrow, they will be the expectation. E-commerce, set to grow to $4 trillion globally by 2020, is driving a dramatic shift in both consumer and business behavior. The market for express and parcel freight is set to grow to $516 Billion by 2025– this expanding market is currently limited by airline/airport capacity challenges."
Kelly believes that, by being able to deliver goods across long distances, at the speed of air freight and near the cost of conventional trucking, hyperloop technology "can serve as an integrated logistics backbone, supporting the fast, sustainable and efficient delivery of palletized cargo. Deliveries can be completed in hours versus days with unprecedented reliability."
SEE ALSO: 
Sustainability
The ability for this new mode of transportation to support high-speed, high-reliability logistical solutions across vast distances is obviously a game changer for supply chains currently bogged down by air, sea and land traffic congestion. Virgin Hyperloop One's cargo subsidiary, DP World Cargospeed, will reportedly be a carbon emissions neutral, electrically powered alternative to current freight strategies, given that, according to a UK government survey, "heavy goods vehicles are currently estimated to account for around 17%1 of UK GHG emissions from road transport and around 21%2 of road transport NOx emissions, while making up just 5% of vehicle miles." 
The ability for hyperloops to transport freight that otherwise would make its way via truck, cargo ship, cargo plane (by far the most environmentally harmful form of transportation) and traditional rail freight alternatives is a strong argument for its adoption. 
According to Kelly, Virgin Hyperloop One is currently setting its sights on eroding the market share of supply chains currently taken up by air freight. "We're focused high-priority, on-demand goods — fresh food, medical supplies, electronics — the same goods often delivered via air. Hyperloop doesn't make sense for carrying things like coal and other bulk goods which can be on the back of a truck/train for weeks with little impact," he explains. "Air cargo currently accounts for less than 1% of world trade tonnage, yet 35% of world trade value is carried by air. This is an expanding market that is currently limited by capacity challenges."