Vodafone and Ericsson test 'safe sky' paths for 5G drones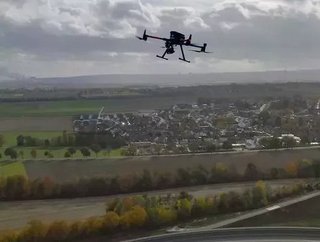 Vodafone and Ericsson have successfully tested 'safe sky' corridors for drones using intelligent aspects of the mobile network...
5Vodafone and Ericsson have tested 'safe sky' corridors for 5G drones, a step that paves the way for an army of drones to operate without incident.
The proof-of-concept trial ran at Vodafone's 5G Mobility Lab in Aldenhoven, Germany. It set out to prove that autonomous drones could fly safely by following a network map to remain connected to the control centre.
It's an important step towards allowing professional drone operators to help emergency services, industrial suppliers and infrastructure providers perform aerial tasks comfortable in the knowledge that drones will not go astray or cause damage. The drones also collated anonymised mobile user information so the drone could avoid heavily crowded areas down on the ground.
Vodafone Group's chief technology officer Johan Wibergh said, "The mobile network is a data-rich asset that can be responsibly and securely utilised to aid society. We are evolving our software-driven, intelligent network into a powerful platform that can deliver new digital services. The responsible use of drones is just one such example but there will be many more.
"APIs will speed up the adoption of drones for commercial and public sector use, bringing many benefits such as being able to assess fires, deliver medical supplies, and help businesses survey hazardous conditions like construction sites, power lines and our own mobile masts, quicker and more safely."
5G drones could 'save lives'
Erik Ekudden, senior vice president, CTO and head of group function technology of Ericsson, said, "Drones are immensely powerful tools for many businesses and we are only scratching the surface of the possibilities they open up, which makes our collaboration with Vodafone all the more exciting.
"Smarter network capabilities on our reliable mobile network will enable key industries such as healthcare, construction, and agriculture to accelerate site deployment, reduce health and safety hazards, and help save lives. With this technology, service providers can expand their cellular IoT services for enterprises and confidently meet regulatory guidelines. This is another milestone in Ericsson's partnership with Vodafone, as we continue to evolve our network and meet the diverse needs of fundamental industries."
5G drone video tuning
As part of the trial, Vodafone and Ericsson also explored ways to use the network to control key features of the drone such as being able to improve the definition of the video instantly without impacting other services. This is particularly useful in situations where the video is not required for the entire mission, like being able to inspect a suspension bridge or check on the condition of a mountaineer.