What to do about no-code?
By Chris Obdam, CEO, Betty Blocks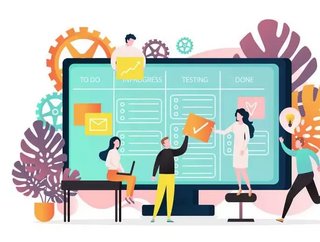 According to Gartner, low-code and no-code application development will be responsible for more than 65% of application development activity by 2024. It...
According to Gartner, low-code and no-code application development will be responsible for more than 65% of application development activity by 2024. It's a bold prediction, but one which could change what it means to be a developer. As software becomes easier than ever to create, it's up to IT to get ahead of home-brewed software and prepare for the coming wave of business built software.  
Low-code development platforms tend to be most often used by skilled developers as a rapid application development (RAD) tool. On the other hand, no-code platforms are most often adopted by so-called 'citizen developers'.
These non-IT citizen developer folks might not have any coding skills, but armed with a no-code development platform they're able to create the systems they need quickly and relatively easily within visual, drag and drop building environments. This lower barrier of entry (versus learning to code) is a tempting option for tech-savvy Millennial and Gen Z employees who understand just how powerful application culture is right now.
This new generation has embraced no-code. They will often build applications themselves in weeks or months rather than rather than queue at the door of IT for months or even years.
Standing at a crossroads
For enterprise IT departments, rapid application development represents a double-edged sword. Strategic implementation of low and no-code platforms enables developers to build modern software solutions up to 10 times faster than traditional coding. At a time when software demand is eating the world, acceleration tools like these are vital for businesses to grow. However, ungoverned citizen developers or shadow IT projects could become a security threat if left unchecked.
Taking back control over shadow IT efforts requires organizations to make a vital decision regarding citizen developers and no-code platforms. Either completely forbid their activities or take them under the wing of your IT department where they can be monitored, trained, and controlled.
Sylvester Bos, Chief Technology Officer at Robidus, believes that the choice is clear. Investigating the impact of citizen developers on the organisation, Sylvester found that although unguided, the software these developers built fulfilled real business needs for employees or customers. Had these applications not been built by citizen developers, they would simply have been added to IT's development queue. Some would have sat there for months, while others would never have seen the light of day at all.
Rather than seeing no-code as shadow IT and fighting against it, Sylvester Bos saw it as an opportunity.
Robidus formally introduced Betty Blocks (a no-code development platform) into their organisation to turn citizen developers into a resource. From this centralised, sanctioned system, the IT department at Robidus could actively collaborate with business users to accelerate innovation efforts even further. Already, the joint effort between both worlds successfully reduced the development and maintenance costs by some 85 per cent.
"Banning shadow IT efforts by force will not help your business move forward. Citizen Developers are able to increase your development capacity by bridging the IT/business gap," says Bos.
SEE ALSO:
Golden rules for making no-code work
Ultimately, choosing to embrace no-code is a business decision that needs to quickly deliver a return on investment. Just like any other investment, spending time creating a strategic framework for implementation, governance and onboarding plays a major role in preventing issues. Each business needs to define that process for themselves but there are some golden rules for getting citizen development off the ground early. These are the five rules you need to take into account:
Create a centre of excellence
A centre of excellence is about more than just putting all your experts together in one room. It's about creating a diverse team of business and IT users who will work together to ensure your projects meet strict guidelines in terms of quality and functionality. This group of people should be made up of your best innovators of different backgrounds to make sure all avenues are explored when defining a project. Remember that this centre of excellence should mainly consist of your existing IT department and people who will actively be using your no-code platform. 
Onboarding and training
Handing someone brand new tooling without teaching them how to effectively use it is likely to cause a great deal of frustration. Even though no-code is inherently easy compared to coding, you'll want your citizen developers to learn how to think like a developer. Teaching them how to approach data modelling, actions, and UI pages will help ensure a better, more efficient end product. Most platform providers (including Betty Blocks) also offer thorough training courses for beginners through to advanced users.
Start off slow
When you build from ground zero, the road to your finished product may seem overwhelming. Focus on a step-by-step approach to create building blocks to your end result. Set reachable target goals. 
Test early and often
Understand that you might have to go back and revisit previous steps throughout the development process. But that's okay. Your carefully laid plans might need tweaking, and that's also okay. The important thing is to test often, iterate flexibly and respond actively to feedback.
Divide and conquer
Nobody expects full-stack developers to stop programming altogether. Actually, the opposite is true. With citizen developers building applications they need themselves, programmers have more time to focus on their own projects. Whether that's creating new lines of business or updating security across the business, businesses will always need skilled developers.
More than a phenomenon
No-code is a revolution that's going to enter your company one way or another. Whether you're in finance, ecommerce or manufacturing, there will always be motivated individuals who will create what they need. Modern rapid application development platforms shouldn't be seen as a threat to IT's role but rather as an extension of IT, as a new way to focus your innovative minds on a singular goal. 
By Chris Obdam, founder and CEO of no-code citizen development platform vendor Betty Blocks