Amazon's fourth quarter results built on COVID-19 ecommerce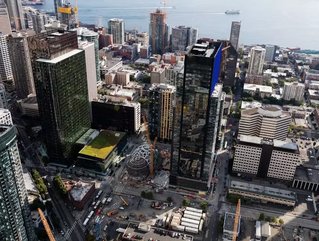 As the biggest ecommerce firm around, Amazon has ridden the COVID-19 inspired shopping wave, delivering one billion products over "holiday season...
US technology giant Amazon has delivered its largest ever quarterly revenue, totalling some $125.6bn.
The figure blew previous records out of the water, representing the first time the company has exceeded $100bn in a quarter. In the same quarter last year, its net sales were $87.4bn.
A pandemic shopping boom
Ecommerce has been one of the few sectors to benefit from the ongoing COVID-19 pandemic, as shoppers have been forced indoors. As the biggest ecommerce firm around, Amazon has ridden that wave - particularly over the "holiday season" - delivering more than one billion products to customers
In with investors, CFO Brian Oslavsky said: "Our Q4 results also largely reflect the continuation of demand trends we have seen since the early months of the pandemic, particularly as people are staying at home, including for household staples and other home products. We saw sales growth across major product categories led by strong prime member engagement."
The company used the good news to soften the blow regarding the announcement that CEO and founder Jeff Bezos would be stepping down starting from the third quarter of 2021, and replaced by AWS CEO Andy Jassy. On that point, Orlavsky said: "And I will reiterate that Jeff is not leaving, he is getting a new job. He's going to be executive chair of the board. Super important role. The board is super active and important in Amazon's success story. And you know Andy has been here since 1997. He is not only a visionary leader, but he's also a strong operator."
Amazon beats Google on cloud front
Amazon's AWS cloud business, for now led by Jassy, continued to go from strength to strength. Revenue climbed 28% compared to last year, reaching $12.7bn. Amazon's fortunes contrasted with those of fellow cloud leader Google. The latter reported its cloud earnings for the first time. Despite growth, it was running at an operating loss of $5.61bn.