Antivirus software creator and crypto promoter found dead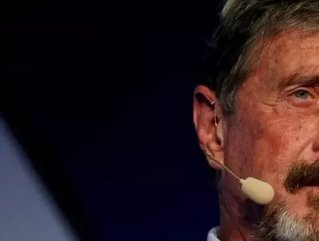 McAfee antivirus creator and cryptocurrency fan, John McAfee, found dead in jail after Spanish court approved extradition to US to face tax charges
After an apparent suicide, the eccentric cryptocurrency promoter and tax opponent was discovered in prison in northeastern Spain. 
Spain's National Court on Monday ruled in favour of extraditing McAfee, 75, who had argued earlier this month that tax evasion charges by prosecutors in Tennessee state were politically motivated and he would spend the rest of his life in prison if returned.
The court's ruling was made public on Wednesday, June 23rd and was open for appeal.
Tax evasion charges
McAfee was arrested last October at Barcelona airport and had been in jail since, awaiting extradition. The arrest followed charges the same month in Tennessee for evading taxes after failing to report income from promoting cryptocurrencies while he did consulting work, made speaking engagements and sold the rights to his life story for a documentary. The charges carried a prison sentence of up to 30 years.
Prosecutors had argued that McAfee owed the U.S. government $4,214,105 in taxes before fines or interests for undeclared income in the five fiscal years from 2014 to 2018, according to a Spanish court document seen by AP. But in this week's ruling, the National Court judge agreed to extradite him only to face charges from 2016 to 2018.
Born in Gloucestershire in 1945, McAfee started McAfee Associates in 1987 and led an eccentric life after selling his stake in the antivirus software company named after him in the early 1990s.
He twice made a run for the U.S. presidency and in 2012 was wanted for questioning in connection with the death of Gregory Viant Faull, who was shot dead in early November 2012 on Belize. In 2019, a Florida court ordered McAfee to pay $25 million to Faull's estate in a wrongful death claim.
He lived for a time in Lexington, Tennessee, 100 miles east of Memphis. 
Association with tech giant Intel
McAfee said his main point of contact outside the prison was his wife, Janice. The last post from his Twitter account was a retweet of a Father's Day message from her, in which she said her husband's time in prison had been especially hard on his overall health, both physically and mentally.
California chipmaker Intel, which bought McAfee's company in 2011 for $7.68 billion, for a time sought to dissociate the brand from its controversial founder by folding it into its larger cybersecurity division. But the rebranding was short-lived, and Intel in 2016 spun out the cybersecurity unit into a new company called McAfee.
A spokesperson with the U.S. Embassy in Madrid said it was aware of the reports about McAfee's death but would not comment for privacy reasons.