Southeast Asia's societal digital transformation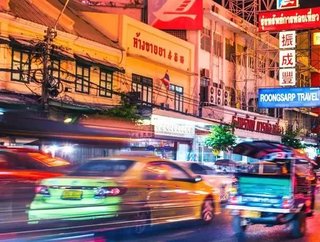 We take a look at the transformative impact of internet access in Southeast Asia, and how its technology providers are building a thriving digital econo...
Southeast Asia is by now one of the world's most vibrant digital economies. That's been enabled by service providers bringing internet connectivity to the populace - with the region as a whole having a population of over 650 million, 360 million use the internet. Indeed, the city state of Singapore, perhaps the region's crowning jewel, the fastest upload and download internet speeds globally.
That access to the internet has been transformative. The , a joint project between Google, the government-owned Singaporean holding company Temasek and management consultants Bain & Company, highlighted the extent of the region's progress in this area. The latest edition of a multi-year research program launched in 2016, key findings included the fact that e-commerce was the biggest single internet sector, worth $38bn - a huge increase from the $5.5bn it was worth in 2015. The report further predicted that the sector alone would be worth $150bn by 2025. Also of note are the ride hailing and online travel sectors, worth $12.7bn and $34.4bn respectively.
Rohit Sipahimalani, Joint Head, Investment Group, Temasek : "Mobile technology is changing the way Southeast Asians work and live; providing them with greater access to new opportunities and markets. This trend is creating attractive investable opportunities in Southeast Asia's Internet economy. These opportunities tap on structural trends that are being driven by transformational technologies and changing consumption patterns. Together with businesses, governments and communities, we are committed to helping create a better, smarter, and more sustainable Southeast Asia."
90% of the region's internet users are connected through mobile means, making it no surprise that the biggest startups in the region tend to be so-called "super app" mobile platforms. Such an approach sees a suite of services being offered inside the same application, such as digital payments or food and parcel delivery.
One example is Singapore's Grab. Originally purely a ride-hailing firm, the company continues introducing new services. Aside from its primary ride-hailing business, Grab has expanded into digital payments as well as food and parcel delivery, to name just a few of the services on offer. Set up as a regional spin on Uber's business model in 2012, in 2018 Grab's success allowed it to buy out it's inspiration's business in the region.
An equally important success story for the region is Grab's Indonesian rival, Gojek. According to the ride-hailing firm, since its launch in 2015 its app has been downloaded by over 155 million users in the region. It has expanded its remit into digital payments and the provision of many other amenities, partnering with over 2 million drivers and 500,000 merchants in the region.
Previously, we spoke to George Do, Gojek's Chief Information Security Officer, who emphasised that the company's role in the region's digital wave attracted him to the job. "I would describe the role as driving the mission of the company to help improve millions of lives by reducing its daily frictions," he said. "This opportunity to make a positive social impact was such an important factor for me to make the decision to join Gojek." Gojek and others like it derive great value by virtue of being born digitally in an emerging region - meaning they are not weighed down with infrastructure past its sell-by date. "Gojek made it into the ground floor of the digital transformation," says Do. "Where we're at today is where a lot of companies around the world are trying to get to," he said. "Executing a security strategy for such a cutting edge platform is a very exciting endeavour." 
The region is also at the forefront of digital payment adoption, with the aforementioned report predicting total digital payments to cross the $1trn barrier by 2025, representing nearly half of all the dollars spent in the region. Singaporean ecommerce giant Lazada was founded in 2012 to draw on this then burgeoning market. It's an approach that drew dividends, with significant investment from Singapore's Temasek Holdings in 2014 preceding the acquisition of a majority stake by Chinese giant Alibaba Group in 2016.
Florian Hoppe, Partner and Leader of Asia Pacific Digital Practice for Bain & Company, : "Southeast Asia's digital financial services are growing rapidly, with digital payments already at an inflection point and expected to exceed $1trn in gross transaction value by 2025. Digital financial services offers the biggest opportunity for serving the underbanked, nearly 100 million adults in the region with limited access to financial services currently, by lowering costs and bridging gaps in data availability. This segment will be the main battleground for most players, with consumer technology platforms well-positioned to serve their needs given their large and engaged user base."
Of course, the region's progress is at significant risk of being derailed by the ongoing , as with all locations worldwide. If it can overcome that hurdle, the region is well set to fulfil its promise and become an internet-enabled technology powerhouse.