TECHNOLOGY MAGAZINE LAUNCHES 'TOP 100 COMPANIES 2023'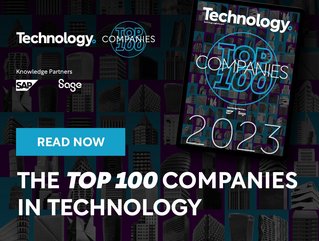 Top 100 Companies in Technology
Technology Magazine has launched its Top 100 Companies supplement, ranking the world's most innovative businesses from AWS to Google Cloud.
[LONDON, UNITED KINGDOM] - Technology Magazine is thrilled to announce the highly-anticipated launch of its prestigious Top 100 Companies supplement, which celebrates the top companies that are at the forefront of innovation: adapting to the rapidly changing landscape and staying ahead of the curve.
From cybersecurity leaders and consulting experts to the companies at the forefront of the artificial intelligence revolution, this year's list features the world's most significant companies. Our list features a range of organisations, from some of the largest companies in the world to the most innovative startups, all of whom deserve their place in these pages.
For further details on the Top 100 Companies supplement and to explore the incredible journeys of these global pioneers, click HERE.
"Our list of the technology world's top companies is an inspiring deep-dive into the most innovative, transformational and significant companies across the globe in 2023," says Marcus Law, Editor in Chief of Technology Magazine. "With advanced technologies like generative AI driving change at an unprecedented speed and scale, all of the companies featured in this year's list are at the forefront of innovation. It's been an honour to showcase the best of the best in this year's Top 100 Companies."
Glen White, Founder and CEO of BizClik says - "Technology Transformation & Digital Strategies' are vital to the very existence of every major business globally today. This list of amazing companies encompasses all aspects of Enterprise IT, Cloud, Digital Ecosystems, Data & Analytics and the future of AI and Machine Learning. Technology cannot be stopped but it can be enabled and the companies on the list are the very best at doing that. We are all hoping that 'Technology' does not exceed 'Humanity' (Einstein).
A big well done to my team at Technology Magazine and the whole crew at BizClik; the work they are doing is simply 'best in class across digital media."
Technology Magazine, a BizClik brand, is an established, trusted, and leading voice on all things technology – engaging with a highly targeted audience of global executives. We provide the perfect platform for you to showcase your products and services, share your achievements, and enhance your reputation in the industry.
You can read the latest news in Technology Magazine by clicking HERE.
You can now sign up for Cloud & 5G LIVE being streamed virtually to a global audience on the 11th-12th October 2023. Click HERE.