Zoom's revenue rockets on back of remote working boom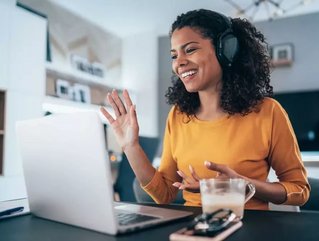 Remote working video calling company Zoom has posted results for the second quarter of the 2021 financial year...
Remote working video calling company Zoom results for the second quarter of the 2021 financial year.
Zoom has undoubtedly been one of the winners of the ongoing COVID-19 pandemic, becoming even for those outside the business world. While it's easy to view that success as a flash in the pan, the company has actually , and emerged on top of rivals such as Skype or Google Hangouts thanks to features including virtual backgrounds and free calls with up to 100 participants.
On the back of the huge uptick in remote working due to COVID-19, the company has seen record increases in a range of financial indicators. In , Zoom founder and CEO, Eric S. Yuan, said: "Our ability to keep people around the world connected, coupled with our strong execution, led to revenue growth of 355% year-over-year in Q2 and enabled us to increase our revenue outlook to approximately $2.37 billion to $2.39 billion for FY21, or 281% to 284% increase year-over-year."
Other standout indicators showed that the company now had 370,200 business customers with more than 10 employees, up 458% year-over-year.
"Organisations are shifting from addressing their immediate business continuity needs to supporting a future of working anywhere, learning anywhere, and connecting anywhere on Zoom's video-first platform," said Yuan. "At Zoom, we strive to deliver a world-class, frictionless, and secure communication experience for our customers across locations, devices, and use cases."
The news caused shares in the company to , reaching a record high and resulting in a valuation of .
Zoom's founder Yuan was previously an engineer on Cisco's WebEx video platform, a company which is now its competitor. The company went public in 2019, before the pandemic, achieving a valuation of $16bn on its first day of trading.