IoT Tech Expo Europe 2023
Tue 26 Sep - Wed 27 Sep, 2023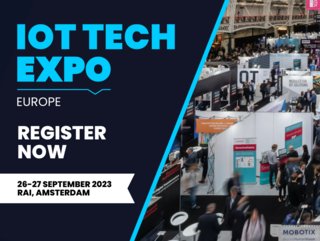 Register for the IoT Tech Expo Europe
The IoT Tech Expo Europe is arriving on the 26-27 September 2023! With 150+ speakers, 5,000+ attendees, and more.
Book your free conference and expo ticket to IoT Tech Expo – Europe which is set to explore what's new and worth attention in the latest innovations within the Internet of Things and covering Manufacturing, Transport, Health, Logistics, Government, Energy and Automotive, this conference is not to be missed! https://www.iottechexpo.com/europe/
Join us in person in the RAI Amsterdam Conversion Centre or virtually on 26-27 September 2023 to hear from our industry-leading speakers.
2022 speakers included:
IoT Expert – Volvo
Industry 4.0 Transformation Leader – Philips
Global Consumer IoT Product Manager – Nestle
Corporate Purchasing Director – Henkel
Global Head of Digital – Almirall
Lead Data Scientist – Eneco… and more!
Find out more about the full list of 2022 speakers here – https://www.iottechexpo.com/europe/speakers/
Key 2022 topics explored:
Learn more about Applied IoT & Analytics
Developing Operations with Digital Twins
Understanding the digital transformation process for implementing digital twins
Outsmarting IoT defence – The Hacker's Perspective
Digitalisation and Automation for IIoT
Find our more about IoT and Data Connectivity – Optimising through Insights
The World of Data Democratisation…and so much more!
For more information on the 2022 event agenda please go here.
Your free in-person ticket will also grant you access to the co-located events exploring Blockchain Expo World Series, Cyber Security & Cloud Expo World Series, AI & Big Data Expo, Edge Computing Expo and Digital Transformation Week!
Book your tickets here: https://www.iottechexpo.com/europe/