Latest Tech Mahindra & Microsoft Threat Detection Roundtable
Wed 21 Jun - Thu 22 Jun, 2023
The Westin Dallas Downtown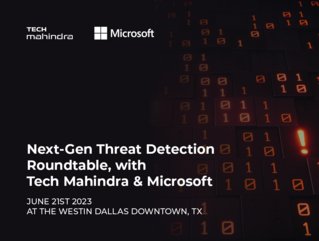 Next-Gen Threat Detection Roundtable
Join Tech Mahindra & Microsoft's latest roundtable on next-gen threat detection, empowering enterprises with next-gen SIEM for real-time threat hunting
As the cybersecurity landscape continues to evolve, organizations face mounting challenges in protecting their digital assets from advanced and persistent threats. This thought leadership topic explores the transformative potential of next-generation Security Information and Event Management (SIEM) systems powered by cloud computing and artificial intelligence (AI).
By harnessing the scalability and agility of the cloud, combined with advanced AI algorithms, this cutting-edge SIEM technology enables defenders to gain a deep understanding of the centralized threat landscape. Armed with this knowledge, defenders can proactively hunt and mitigate threats in real-time, bolstering their cybersecurity defenses and minimizing potential damages.

In this roundtable, Tech Mahindra and Microsoft together will deep dive into the key features and benefits of this next-gen SIEM solution, highlighting its potential to revolutionize threat detection and response capabilities for enterprises across industries.