RE•WORK Sydney
Sun 16 Oct - Tue 18 Oct, 2022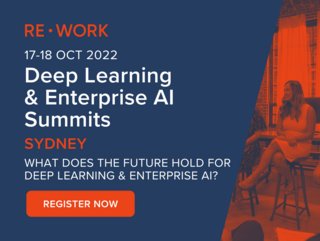 RE•WORK Sydney is Australia's first AI and Deep Learning Summit in Sydney.
We are pleased to invite you to attend Corinium's RE•WORK Sydney Conference 2022! Join us, October 17-18, for Australia's first AI and Deep Learning Summits in Sydney. With presentations, panel discussions, quickfire sessions, interactive roundtables and more, RE•WORK is set to be the home of next-gen tech in Australia and is excited to welcome leading experts, researchers, business, government (and more) together to connect, network and drive the future!

With two Summits running in parallel with each other, RE•WORK is an unmissable opportunity to explore the latest (and greatest) deep-learning technologies, their potential for business and the challenges and opportunities for businesses on their AI journey. Bringing together the latest technology advancements as well as practical examples to apply AI to solve challenges in business and society. Our unique mix of academia and industry enables you to meet with AI pioneers at the forefront of research, as well as exploring real-world case studies to discover the business value of AI!
Register using the discount code RSYDSPON500 below, and receive $500 off the standard rate!