The Redefined SaaS CFO
Thu 15 Sep - Thu 15 Sep, 2022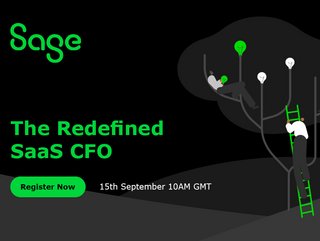 A changing role for a changing world, UK businesses have learned from the last two years of disruption and social change
About this Webinar
A changing role for a changing world, UK businesses have learned from the last two years of disruption and social change. Now, they are one of the leaders in the integration of new and emerging technologies. With more responsibilities, UK CFOs must find ways to work smarter, not harder.

But despite their preparedness, there are many plates to spin, from Accounts Payable automation to managing accounts receivable in the face of potential late payments.

In addition to these pressures, UK finance leaders have found their level of responsibility has increased across other areas of their business over the past year. 80% have become more involved in digital transformation, environmental, social and governance (ESG) and diversity, equity and inclusion (DEI) initiatives. Meanwhile, 78% have found that they are increasingly supporting data and cybersecurity decisions, IT purchasing choices and strategy and future planning.

New kinds of leadership are required to deliver purpose-driven strategies and embrace digitalisation. As a result, CFOs are fostering non-traditional skills that enable them to navigate contemporary complexities.
Agenda
A redefined CFO is poised to disrupt and prepared for disruption
To meet the demands of today's business landscape
Finance leaders can ensure their organisations are staying ahead of the curve
Presenters
Marvin Fletcher Rogers, Senior Solutions Consultant, Sage
Jane Watkins, VP Finance, Cloudsense
Scott Birch, Chief Content Officer at BizClik Media Group