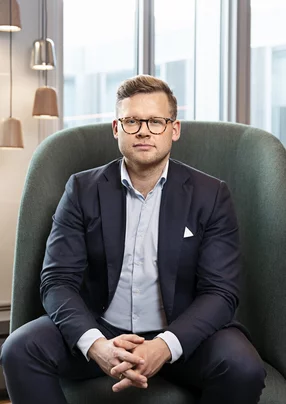 Jakob Højland
Commercial Director, SimCorp

Jakob Højland, Commercial Director of Cloud Services at SimCorp discusses his role at the company and how is looking to drive forward its cloud services
SimCorp provides its customers with integrated, best-in-class, multi-asset investment management solutions. The company's customer base comprises the world's leading asset managers, fund managers, asset servicers, pension and insurance funds, wealth managers, central banks, sovereign wealth funds, and treasury.
As the world's leading provider of integrated investment management solutions, SimCorp has been continuously evolving its offerings to become a technology-enabled services company.
Jakob Højland, Commercial Director of Cloud Services at SimCorp discussed his role and how he works to support the company as it continued to evolve: "I am the commercial owner of SimCorp's cloud and managed services business – which is at the centre of our company-wide transformation from being a software provider to becoming a technology-enabled services company. My focus of the value is the downstream activities, so everything that is related to our customers, being marketing, go-to-market, sales, and general customer success management."
Højland has only held this role at SimCorp for just over a year and came to the company bringing his extensive knowledge and expertise from Microsoft.
"In my time at Microsoft, I worked with cloud transformation in the financial services industry, which encompassed everything from the business-driven motivations for cloud, value and efficiencies for the technology teams, as well as the foundational security, compliance, and regulatory needs," explained Højland.
"All these aspects I have brought into my work with SimCorp's commercial cloud business, together with the notion of scale and efficiency you get from working on one of the world's biggest tech companies," he added.
Interestingly, Højland, when working for Microsoft, worked closely with SimCorp to help the company formulate and create its cloud strategy together with its senior management team. From there, he then moved to SimCorp to run its cloud business.
Now, Højland is trying to build a business centred around customer success. He explained: "We focus on all the areas which are important for our customers in their cloud journey, and then I have created efficient and scalable methods to be able to serve all our clients with consistent and high quality."
To drive forward the cloud services in SimCorp, Højland looks to define the commercial direction to ensure its success. This includes: "Defining our go-to-market strategy on which geographies, client segments, tiers, and even specific clients we should focus on; and then ensuring clear and consistent communication to our clients so that they understand the value we can bring to their business," said Højland.
"Fortunately, most days I talk to clients: often I talk with senior leaders about business motivations for cloud services and defining the right patch for them. For us, cloud is a means to offer our clients a new operating model, where we deliver complete tech-enabled service, and they focus on their core business," he continued.
With his career in cloud services, Højland has had to negotiate different challenges as new and innovative technologies emerge. He defined himself as a 'glass half full' person and explained this helps him overcome obstacles in his career: "I have a can-do attitude and believe that my team and I can tackle any task thrown at us. I thrive well in an environment where there is a lot of uncertainty and a lot of change. I know to work well in these environments I fundamentally need to work together with my team to find the best possible solution. I'm very structured. I'm very direct, but I'm also at the same time, very innovative."
​​​​​​​Read the full story HERE.
"We're now shifting to delivery, pivoting into working more in the battle space, and supporting our ambitions in terms of NATO.