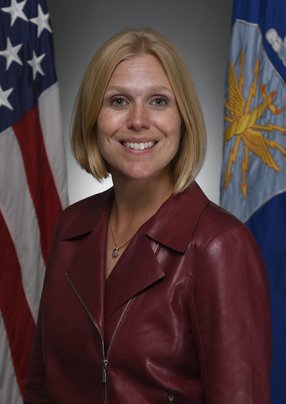 Lauren Knausenberger
Chief Information Officer for the US Department of the Air Force

As her time as CIO at the US Air Force comes to an end, Lauren Knausenberger tell us about the tasks still on her hitlist and her advice for her successor
When a high-level official steps down from their position, it often raises questions about the future of the organisation they leave behind. But Lauren Knausenberger, CIO of the Department of the Air Force (DAF), will be leaving with her head held high.
Knausenberger's time in the role which she describes as the "honour of a lifetime" is coming to an end. But speaking with her shortly before her time as CIO concludes, it is clear that she is not letting up as she prepares to cross the finish line.
"There are a couple of things that are going to be a photo finish," she explains. "One is just getting all of our endpoints on the same image and having all of those endpoints remotely managed."
Other projects nearing completion are the simplification of the department's endpoint security model and the first wave of its Enterprise IT-as-a-Service which is aimed at improving consistency of IT service delivery.
"Those are all big things that have been in progress for a little while, but people are really trying to get it done because I'm pushing them, and this is the hit list that I want to see done before I leave."
An experienced technologist who began her career at the NSA as a teenager, since 2021 Knausenberger has held the role of CIO for the DAF, comprising the US Air Force and US Space Force.
Before joining the Air Force as its Director of Cyberspace Innovation in 2017, Knausenberger graduated from Wharton Business School and held a number of roles in the entrepreneurial and investment industry.
Most recently working in a high-profile role in the defence sector, the call to serve her country came literally in the form of a call from an Air Force captain who had been inspired by a speech by then-DAF CIO, Lieutenant General Bill Bender.
"My husband got a call from an Air Force captain one day, and he just said, 'We need more companies like your wife's company in the defence space. I'd really love to chat with her about how we can solve some of these problems'."
The punchline was, 'Can I take your wife out for a beer?' Knausenberger laughs.
"After my husband stopped laughing, he sent the captain my phone number and we met up," she says. "As we were chatting, I opened up my little bar napkin and I started sketching some things out. We were having a great conversation and just bouncing ideas off each other."
From this conversation, Knausenberger put those notes together in a pitch to General Kim Crider, who would later become the first Chief Data Officer of the Air Force and the first Chief Technology and Innovation Officer for the Space Force.
"I then met General Holmes who went on to be the Air Combat Command four-star and then to General Bill Bender where it all started. And, over time, he and General Crider tackled me and said, 'Hey, we really need you to serve your country because when you talk about these things, we believe that we can really do them'."
As Knausenberger explains, the CIO role came thanks to the decision by the Air Force to cast a wider net in the interest of innovation.
"The CIO at the time, Bill Marion, encouraged me to put my name in the hat. And because the Air Force cast a wider net, I was able to apply for the job even though I was not a tenured member of the senior executive service at the time."
Since taking on the role, Knausenberger says it has been an honour to work with her team, particularly at such a transformative time.
"It truly has been an honour of a lifetime to work with these airmen and guardians, at a time that we're launching the Space Force and truly becoming an enterprise and moving through a lot of cultural barriers too, through COVID, to truly understand what a digital world is and that it is the underpinning of our future competitive advantage."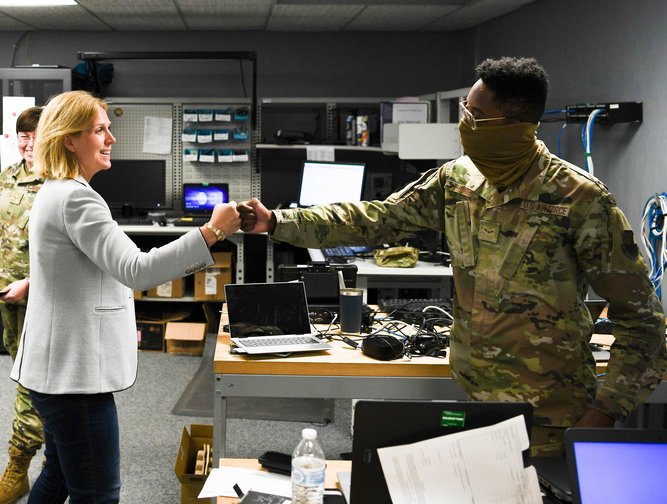 Laura and the USAF team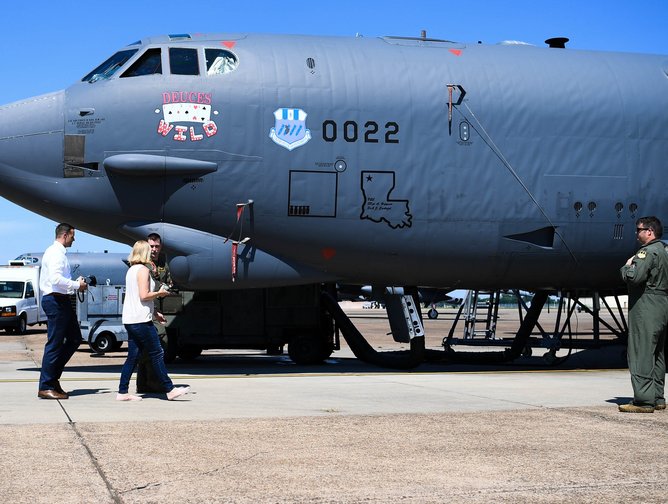 Laura inspecting an aircraft