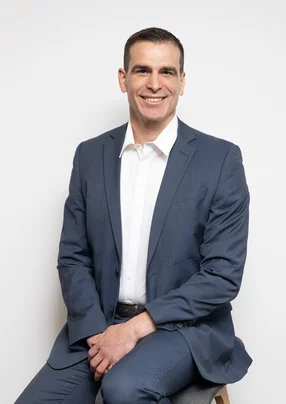 Michael Phillipou
Chief Executive Officer of Sandstone Technology

Chief Executive Officer of Sandstone Technology, Michae Phillipou divulges the importance of partners in fintech development for customer satisfaction
Enthusiasm, inspiration and commitment to fintech development are all features of Sandstone Technology, and its Chief Executive Officer, Michael Phillipou. Before joining Sandstone in 2019, Phillipou held various roles in financial advice delivery, leadership, and other high-level positions in banking and financial technology firms. With over 20 years of experience in retail and business banking, digital banking, and enterprise technology, Phillipou is well equipped to take charge of the company.
During a discussion with Phillipou about the current industry trends and the future of fintech, he first explained where his passion for the sector originates from. "My interest in financial technology was piqued in 2013 to 2014, reading about the likes of TransferWise—now Wise—disrupting payments, the international payments vertical in particular," says Phillipou.
"I followed companies such as Credit Karma, Revolut, N26, Monzo and Starling in the B2C space, which convinced me the real battleground that banks would need to win in, was the digital landscape. From there, I made a concerted decision to take my career into the Technology stream of financial services."
Within his passion for the fintech industry, Phillipou is also excited to see where continuous development leads Sandstone, as he provides his opinion on the company's biggest strengths and the direction in which the business is heading. "We boast market-leading products and platforms, are a trusted transformation partner and have a workforce or team of people that are deep domain experts in building and delivering market-leading platforms, which we've successfully done in many geographies around the world," Phillipou explains.
"As our platforms are exceptionally comprehensive, our target customers are predominantly, tier one to tier three banks and financial institutions across our target geographies and, now that we've extended into SME, we'll be working with existing and prospective customers to offer these solutions."
One of the main aspects of the fintech industry that inspires him is the ability to scale businesses while simultaneously providing customer satisfaction, which is achieved through the use of automation to create frictionless processes. "Financial technology impresses me because, through the use of automation, it can be used by banks to provide frictionless customer experiences, which in turn can delight customers and enable banks to enhance their customer satisfaction & advocacy, while also gaining market share," Phillipou says.
What does the future of fintech look like?
Phillipou believes the fintech ecosystem "will be consolidated whereby a number of the big data companies will continue to extend into offering financial services products and solutions to their customers."
Payment providers will also play important roles in the future fintech landscape, specifically within a section of the industry that is becoming more saturated year on year. "There is a lot of competition in the space, from banks, payment processors, to buy-now-pay-later businesses through to non-bank end-to-end payment solution providers," Phillipou says. "Now the emergence of social media messaging platforms, like Messenger, offering payment solutions."
As physical money is superseded by digital currency, banks will require fintech partnerships, and with continuous development, Sandstone Technology aligns itself with the current market situation.
Read the full story HERE.
We've built some unique features into our insurance program specifically because we've listened to courier partners in every country