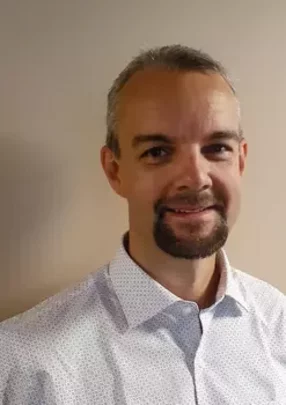 Bauer explains how his passion for technology and the environment is helping to keep customers of EcoOnline safe in the workplace
A passion for technology and the environment is what gets Øyvind Bauer, Chief Technology Officer in EcoOnline out of bed every day for his role in creating safe, sustainable workplaces through user-friendly SaaS (Subscription as a Service) tools.  
"I am a technology addict and geek, but I know that when I combine this with my interest in the environment I am making a difference to thousands of EcoOnline customers which is very rewarding and one of my key "getting out of bed" factors every day, said Bauer.
Bauer has worked for EcoOnline for 15 years, starting out as a junior developer and has been part of the company's digital transformation. "I have been through the full technology career ladder. I transitioned from a Solutions Architect to the CTO role four years ago," said Bauer.
"Since then our R&D department has grown from below 10 people to almost 100 through both organic growth as well as new people coming in as part of acquisitions. They are spread around 10 countries. We also employ a development partner in Romania to further empower our R&D capacity.
"My main responsibilities consist of being in charge of our R&D team across the company, and I sit in the GMT team. I'm also our voice of technology towards our owners and our board of directors.
"I have a delivery co-responsibility towards our Product roadmap together with our VP Products. I'm also quite involved in new acquisitions and integration of both technology and people into our organisation." 
Father-of-three Bauer who lives in Tønsberg, Norway, located an hour from Oslo, has always had an interest in combining the power of technology and environmental issues.
Bauer was brought up in Lillehammer - the home of the 1994 Winter Olympics - and like most Norwegians takes to the mountains every winter to enjoy skiing. "As a teenager I remember when the Olympics came to our small town - it was a memorable experience."
"I would say this interest has always been there throughout my career in EcoOnline. My eyes have opened up in terms of how much potential there is for improvement when it comes to handling and usage of chemicals and workplace safety in general, and how technology can be a facilitator to address this situation.
"The fact that our main owner, Summa Equity, is a company that focuses on green technology and strives to have companies in their portfolio that makes a difference in the world is very inspiring and empowers our mission.
"A few years back we also received  official funding called "Innovation Norway" because we described how we wanted to enable our software to aid in the substitution of dangerous chemicals. This funding package is earmarked towards environmental technology, and EcoOnline was the first company in history to get this for a software product, and not a physical entity. Being part of this application and process further fuelled my interest."
Bauer says he has been inspired by the founder of EcoOnline Kjell Einar Hamnes and consider the traits of a good leader to include the following: 
Freedom with responsibility. "I have an EMT team of bright and self going individuals who help me run our big R&D team." 

Result oriented and allowing for good flexibility as long as the expected results are met. "I don't believe in "you have to work from 8-6", it's important to fit the work around both your personal life and being there for your colleagues.  This increases happiness and fosters creativity."

Build and organise our R&D department as efficiently as possible to enable rapid deliveries across all our applications. "By creating semi-autonomous pods that separately can work on different aspects of our product we have optimised how we utilise all our resources."

Caring about your people. "As a leader I want to be an enabler that helps remove obstacles and arrange it so that we have the progression we want."
"I like to see myself as a buffer between everyone else and my R&D managers. Helping in reducing noise that hinders progress or creates frustration and limiting direct developer communication unless necessary."
Two global leaders he thinks harnesses great leadership qualities are Bill Gates and Elon Musk.
"Gates encourages his employees to break out of the comfort zone to breed innovation and new ideas. It's critical when you want to achieve groundbreaking innovation. It's a way of enabling people to do better through a transformational leadership style.
"Elon Musk just gets things done. Whatever he envisions, he somehow manages to do. This leads to both bad and good leadership traits and I wouldn't agree with everything he has done, but you just can't ignore the fact that he has had fantastic achievements with companies like SpaceX, Tesla and Paypal," he said.
Read the full story HERE