See the top tech speakers at Procurement & Supply Chain LIVE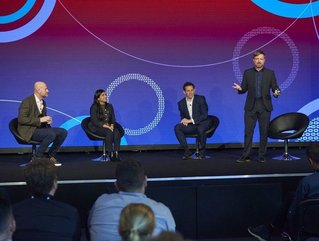 Procurement & Supply Chain is LIVE from London's Tobacco Dock. Stream virtually right now to hear some of technology's biggest voices within procurement
Catch globally renowned technology speakers at Procurement & Supply Chain LIVE, which has started today! Join the action on virtual events platform Brella, wherever you are in the world.
Virtual attendees enjoy full access to all stages, themed networking rooms and even the opportunity to ask questions to our speakers.
Here's some great keynote speakers you can see this morning. A full agenda is found here!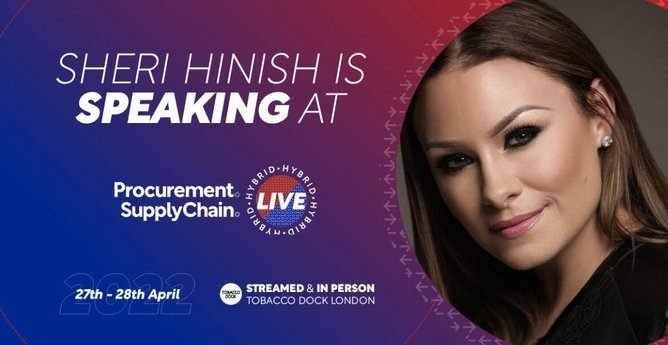 IBM - 10:00AM - Stage 1 - 30 mins
Speaker: Sheri Hinish
Position: IBM Consulting Global Sustainability Services Leader
Theme: Breaking down barriers to environmental sustainability

You can't fail to notice Sheri Hinish. Whether it's hosting her own podcast, making guest appearances on shows as the self-monikered Supply Chain Queen, gracing magazine front covers, or making keynote speeches at industry events – brand Hinish is ubiquitous. That's good news for IBM, where she holds a convoluted title that encapsulates her multifaceted role, and better news for sustainability aficionados everywhere.
Having recently graduated from Harvard with a Masters in Sustainability, Hinish is a rarity to be cherished and championed – a senior executive who walks the sustainability talk. A poster person for diversity, equity and inclusion.

Colleagues and clients affectionately know Hinish as "Supply Chain Queen."
"I'm recognised as a trusted advisor that companies consistently leverage for strategy and a unique point of view," says Hinish.
Her areas of expertise include: supply chain, sustainability, talent and organisational change management, diversity as a business imperative, and strategy in digital transformations.
She has 17 years' experience leading and influencing transformations as a practitioner and consultant for Fortune 500 clients in consumer, technology, industrial, and disruptive innovation in end-to-end process and product design.
"I'm a rebel ," she says. "I'm also an eternal student who loves bringing out the best in people. I've made a career simplifying the complex, rethinking supply chain strategy and customer experience."
Hinish also hosts a top podcast called Supply Chain Revolution. that evangelises the future of supply chain. "My vision is to change the world through shared purpose and sustainable supply chain, circularity, and building technology grounded in the principles of sustainable development," she says.
SAP - 10:30AM - Stage 1 - 30 mins
Speaker: Richard Jowers, Andrea Ricciarelli, Tom Woodham
Position: Director - Value Advisory, Intelligent Spend & Business Network @ SAP, Senior Director - Digital Supply Chain @ SAP, Partner @ PwC
Theme: Panel Discussion: Risk Mitigation in the Supply Chain

Richard Jowers is currently a Director in SAP's Value Advisory team within the Intelligent Spend & Business Network Group. In this role Richard works with clients to understand their key business objectives and then leads collaborative 'Vision to Value' programmes to ensure clients realise significant on-going value from the investments they make in SAP technologies that deliver against those objectives. He has been working in the Procurement & Supply Chain space for 25 years in both industry and consulting roles across the private and public sector.

Strategic Customer Advisor for Supply Chain Management with SAP in Europe Middle East and Africa (EMEA) North region. Andrea Ricciarelli has 20+ years experience in Logistics and Supply Chain Management and 10+ years experience in Business Development at international level across the ICT and technology enabled sectors. Andrea has a strong expertise and experience in Logistics with a specific focus on Transportation Management, Warehouse Management and Track & Trace business areas.

Tom Woodham is a highly experienced Management Consultant with a strong track record of delivering complex programmes, including leading the MCA (Management Consultancy Association) Project of the Year in 2018. He works with clients to embed the best of supply chain technology into their Operations to deliver both tangible cost savings and lasting operational performance improvement. More recently these have harnessed the power of AI, IoT, analytics, automation and blockchain for deep technology based transformation.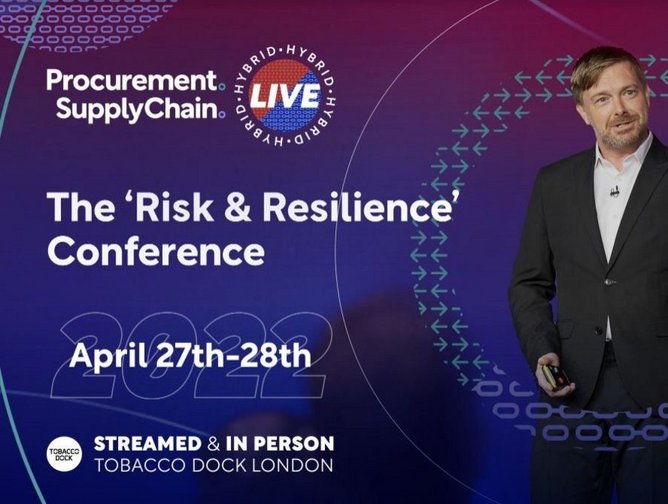 About Procurement & Supply Chain LIVE: The Risk & Resilience Conference
TODAY, sister publications Procurement Magazine and Supply Chain Digital are at the Tobacco Dock (London, UK) to host Procurement & Supply Chain LIVE: The Risk & Resilience Conference.
The two-day hybrid event is held on the 27th and 28th of April 2022, in-person and broadcast live via our fully interactive virtual platform.
To attend in-person or virtually for Procurement & Supply Chain LIVE: Risk & Resilience, click here.
Across these two unmissable days, the agenda includes seven core themes:
Supply Chain Risk & Resilience
Digital Procurement
Transformation
Supply Chain Sustainability
The Global Logistic Forum
Supplier & Contract Management
Digital Ecosystems
To explore the full agenda for Procurement & Supply Chain LIVE: Risk & Resilience, click here.