Vodafone: Digital disruption in a post-smartphone era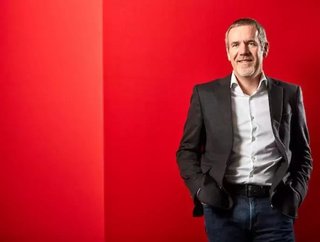 With the roll-out of 5G on the horizon, Scott Petty, CTO at Vodafone UK, says that the British firm is set to redefine what it means to be a telecom Vo...
With the roll-out of 5G on the horizon, Scott Petty, CTO at Vodafone UK, says that the British firm is set to redefine what it means to be a telecom
Vodafone has always been a trailblazer in the telecoms space. The British company started life as a small startup in 1980 and ever since it has made history, making the nation's first mobile phone call on New Year's Day 1985 and sending the country's first text message in 1992. However, in more recent chapters of its history, Vodafone has redefined what it means to be a telecom. Having just celebrated his 10-year anniversary at Vodafone UK, CTO Scott Petty contends that as we enter a post-smartphone era, Vodafone is no longer just a telecom, it's a major technology company.
SEE ALSO:
"We feel like we're a technology company capable of developing innovative new services as much as a network operator that can extract operational efficiencies out of scale," he reflects. "I think what we're grappling with in the post-smartphone world is: what will be the new services and technologies that will use mobile networks as a connection point or hub?" With over 17.2mn subscribers Vodafone is now the third-largest mobile network operator globally but recently it has entered a variety of new markets, dabbling in the world of fintech, Internet of Things (IoT), telematics and more. "We're not an incumbent in these markets," admits Petty, "but this means we've had to innovate and come up with new ideas to really be successful and win." From its mobile money service, M-Pesa, to its cutting-edge IoT platform, Vodafone UK has proven that it's more than a mobile phone operator, it's an ubiquitous technology player.
Regardless of its ever-changing definition though, one thing is certain: customer service is at the crux of Vodafone's future strategy. "We operate in a broad technology market and so we're not just compared against telecoms, we're compared against every other business that has digital strategies. Therefore, enhancing customer service is really critical to us," Petty says. With this in mind, the firm has invested heavily in applications and online platforms, leveraging artificial intelligence (AI) and automation to improve its customer service.
The dawn of 5G
When it comes to technology, the imminent rollout of 5G has dominated headlines both in the UK and abroad. It's a highly-anticipated event – and it seems we won't have to wait too long for its arrival. "We've been working on 5G for quite a long time," observes Petty, noting how the telecom has "more than a hundred spots live across the UK." Vodafone has amassed a notable amount of spectrum and is already carrying out various 5G trials, including some UK firsts. In fact, in recent months, Vodafone launched its first full 5G mobile network in the UK, connected the country's first 5G airport, and has also made the UK's first live holographic mobile call using 5G. 
The opportunities provided by a fifth-generation network are endless: consumers will be able to download a document in seconds or stream a 4K movie without buffering but perhaps, most interestingly, we're likely to see a leap forward in other cutting-edge innovations like augmented reality (AR) and IoT. With the UK leading the charge with 5G, Petty believes it marks a momentous step for the country. "The UK is at the leading edge of deploying 5G," he says. "It's exciting because it lets the UK economy be early shapers and users of 5G technology." Citing Manchester's Media City as a pertinent example, Petty highlights how British firms are really starting to "look and experiment with the use cases around 5G." "Hopefully the UK will use that early adopter opportunity to create new products and services that go to market early in the UK and which create new market opportunities in other geographies," he adds.
IoT: The next frontier
IoT has long been hailed as an opportune market and with the pending launch of 5G, it's likely the technology will soon become the norm. Vodafone has carefully etched its own path in the IoT market, recognising it as a future growth area. "We've got more than 70mn IoT devices connected to our network and we have built a global platform for IoT management that's made it easy for customers to develop applications. This has allowed us to be an early leader in a couple of markets such as the automotive market, which we think will continue to grow as a really strong sector for IoT," says Petty. In fact, Vodafone IoT technologies are already embedded within several connected vehicles built by firms such as Audi, BMW, Daimler, Ford, General Motors, Jaguar Land Rover, Porsche, SEAT, VW and Yamaha motorbikes. As well as seeing an uptick in the automotive sector, IoT is also helping to transform the energy market with Petty noting that Vodafone has "seen strong growth in emerging market areas particularly around smart metering." Indeed, nowadays, the telecom's IoT network and services support energy companies including Centrica, EDF and nPower.
IoT has proven to be nascent in an industrial toolkit, but his year, in particular, Petty predicts that "we'll see IoT really start to penetrate factory environments and refineries, for example." He says: "A lot of customers are starting to build smart factories or industry-forward capabilities, leveraging the real power of IoT to improve processes and decision-making."
The post-smartphone era: what's next?
Today, our smartphones have become engrained in our day-to-day lives. We not only use them as phones and cameras but, with the emergence of cutting-edge apps, we're now able to read the news, learn a new language, shop online and more, all at the touch of a button. Petty says that this has been a defining period for the smartphone market but that 5G will offer new capabilities that will take this a step further. Ushering in the so-called 'post-smartphone era', Vodafone is examining new technologies that may use a smartphone as a connection point or hub.
"Ten years ago, the market was really defined by the emergence of more smartphone apps but I think this will evolve even further. Soon we will be creating the next wave of digital technologies," he explains. "For businesses, having a great smartphone app will be crucial but more importantly in this world will be interaction with watches, wearable devices, augmented reality and these kinds of services — the next wave of innovation."
"We've done a lot of work with voice assistance, augmented reality and online gaming, for example — these are really exciting and new service capabilities for Vodafone," he adds. "It's about tapping into new sources and experiences for our customers that will hopefully translate into more customers, more connections and ultimately more revenue."
Digitally-savvy thinkers
Any technology firm will tell you that it's the skills and expertise of the people that sets them apart and, at Vodafone, the same message rings true. As a result, the company has invested heavily in improving its IT and engineering skills. "We're relying less on outsourcing and service partners to deliver our services and instead, we're creating a lot of roles surrounding IT, product development, and network development so that we can really create a core technology team for the future." Sourcing fresh-faced talent from graduate and apprenticeship programmes, Petty says these new hires have "a great aptitude for technology" and have "refreshed the culture, bringing new ways of thinking."
With the emergence of 5G, technology has become more intertwined than ever before and as a result, Vodafone has worked diligently to strengthen ties with other industry leaders such as Amazon, Google and Microsoft. "Amazon is one of our biggest IoT customers – all of their lockers worldwide use our technology," Petty says. "Meanwhile, Microsoft has one of the leading gaming platforms in the world and we've been working really hard to integrate our network and our APIs into the gaming platform, for instance. These strong ties with leading cloud operators and technology companies are helping us create new services. I think future success for telecoms will depend on partnering with other technology companies and building new innovative services."
Looking forward, it seems Vodafone has reams of new ideas and solutions up its sleeve, proving that, in a lot of ways, it's much more than your typical telecom.