Weir Group PLC adopt TripActions travel management solution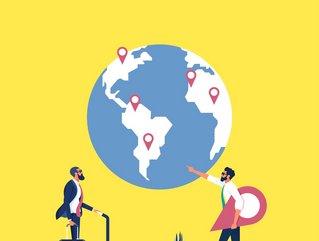 Engineering business for mining and infrastructure industries, The Weir Group PLC, has selected TripActions to increase its global visibility to spend
Travel management solution often proves to be the source of hassles and frustrations for employees and finance teams. For The Weir Group PLC, one of the world's leading engineering businesses for mining and infrastructure industries, travel management is particularly complex.
Today, The Weir Group PLC has announced that TripActions, a top ranked travel and expenses solution according to Trust Radius, are to be its new global travel partner. TripActions is the only all-in-one modern travel, corporate card, and expense management solution, that The Weir Group PLC hopes will enable a consistent, global user experience for its workforce of 11,000 employees that spans more than 60 countries.
Betty Grogan, Global Travel Manager for Weir, said on the new partnership: "We took the opportunity during the pandemic, when there was less travel, to re-evaluate our travel programme with the objective to provide a consistent and streamlined travel solution across the organisation. First and foremost, it was important we align on employee safety and sustainability benefits, but also to optimise savings, quality and service, and compliance with a single solution."
The Weir Group has critical ambitions in safety, sustainability and the development of innovative mining technologies used all over the world, so they have turned to TripActions to support the diverse needs of its travellers as they transition from more than 15 disparate providers to a single cloud-based, user-first platform designed to meet the needs of today's workforce.
Data-driven insights on a global level

The partnership is designed to provide an improved visibility of business travel and spend, risk management and security.
TripActions has had a period of substantial European growth including several high-profile wins such as Springer Nature, Primark, Heineken, and Informa, adding to the roster of more than 8,800 international companies. TripActions has also added office hubs in Portugal, Israel, France, Germany, and Ireland, with a total of 64 wholly and partner-owned offices spanning 94 countries worldwide.
With over USD$400mn invested in Europe, TripActions has acquired Reed & Mackay in May of 2021, Berlin-based Comtravo in February of 2022, and Scandinavian travel management company Resia in March of 2022.
Michael Riegel, General Manager of Europe at TripActions who came on board with the acquisition of Comtravo, commented that they were able to demonstrate to The Weir Group the effectiveness of their consumer-focused technology, that Riegal claims "drives 95 percent adoption on average, significantly cutting leakage and delivering cost savings".

"We look forward to partnering with The Weir Group and providing a best-in-class user experience, as well as high-end service, where the customer needs it."
In-house support agents from TripActions will be distributed around the world to support The Weir Group's travellers with 24/7/365 service over chat, email, and phone from multiple offices and in local languages. Implementation will be completed globally, with initial support to more than 20 Weir locations.