How PLCs and drives unlock intelligent industrial automation
By Arnold Taddeo, Head of Global Product Management, ABB Drives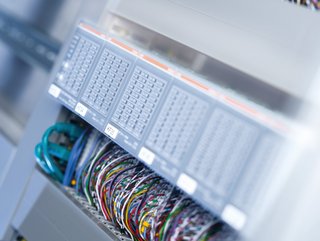 Programmable logic controllers (PLCs) hold the potential to further enhance the already transformative benefits of drives paired with motors
Arnold Taddeo, Head of Global Product Management, ABB Drives explains how PLCs and drives combine to enhance performance, energy efficiency, and safety
Drives, often referred to as variable speed drives or VSDs, control the speed and torque of electric motors. The use of variable speed drives can significantly reduce energy consumption and enable precise control of key processes and machines, across a variety of industries.
Simply pairing an existing motor with a drive offers a significant opportunity to boost performance and energy efficiency. In fact, drives can typically decrease energy consumption by up to 25% or more. But there is an additional way to optimise efficiency – combining a motor-drive system with a programmable logic controller (PLCs).
PLCs are compact, yet powerful, automation devices which actively monitor input signals from various sources, including drives. The PLC uses this data to make intelligent real-time decisions that can guide the actions of these drives. This results in more reliable, cost-efficient operation of the application they control.
A single PLC can seamlessly coordinate the movement of multiple drives connected to numerous motors, enabling precise synchronisation even in intricate and large-scale operations. These PLCs are often pre-programmed with specific instructions tailored to the unique needs of the industrial process they oversee.
PLCs in action
In smart irrigation, for example, PLCs can continuously collect data from various sensors, including weather forecasts, soil moisture levels, and temperature sensors. This wealth of real-time information is then analysed and processed. When the data indicates, for example, high temperatures and low humidity, the PLC instructs the drive and motor to release just the right amount of water from the pump to prevent crop stress, ultimately conserving precious water resources.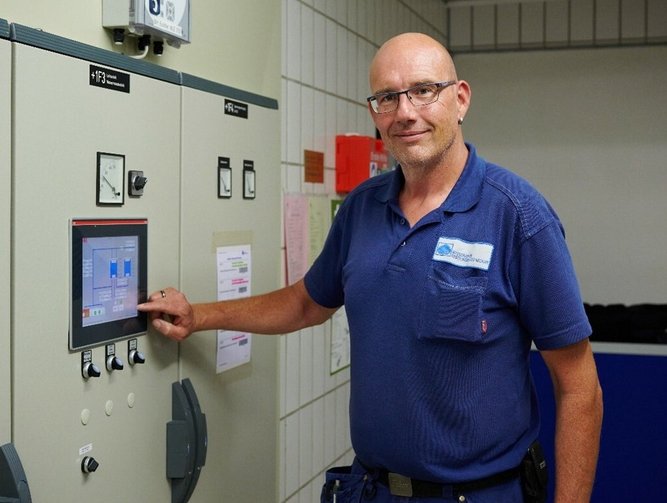 Uwe Maigler, technical manager of Wendlingen waterworks - which uses 11 ABB AC500 PLCs to ensure consumers have uninterrupted access to drinking water
Another great example of PLCs in action can be observed within a bakery setting. PLCs can be programmed with multiple recipes, controlling ingredient dispensing, mixing, proving, baking, and quality checks, all according to the specific product required. The baker can quickly switch between different bakery goods on the same conveyor line, so individual orders can be instantaneously and accurately fulfilled with minimal human input. This means the bakery can consistently produce high quality products, reduce waste, lower unnecessary consumption of energy and, ultimately, save money.
PLCs monitor the end-to-end process, receiving data from sensors that detect any anomalies or bottlenecks. If an issue arises, the PLC can promptly instruct the drives to adjust the conveyor's speed or halt production to resolve the problem. If there are potential issues with the condition of the assets, the PLCs can proactively alert the operator to perform preventative maintenance. This level of real-time coordination not only optimises efficiency, but extends equipment lifespan and reduces the chances of process failure, which could lead to costly, unplanned downtime.

PLCs also play a pivotal role in industrial safety, offering crucial features such as emergency stop controls and safety interlocks. These measures are critical in preventing accidents and protecting both workers and equipment. For a crane, for example, this might involve restricted safety areas for movement, and collision prevention.
Embrace the automation revolution
PLCs hold the potential to further enhance the already transformative benefits of drives paired with motors. Together, they can elevate system and energy efficiency, improve safety, and streamline operations, moving us further down the path towards a sustainable industrial future.
Learn more: https://new.abb.com/plc