Top 10 most valuable tech brands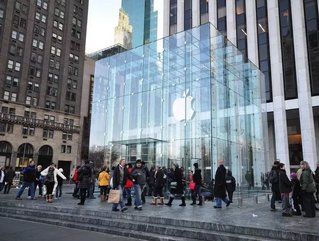 We take a closer look at the world's most valuable tech brands in 2021, based on brand value data from Statista...
The tech world is full of companies that have gone from nothing to household names in the span of just a few decades (and often much less than that). That kind of name recognition is invaluable for companies to possess, and represents another field of competition aside from their valuations. That's why we've decided to take a closer look at the world's most valuable tech brands, based on brand value , to get a better idea of who is most capturing the public imagination. 
10: Huawei, brand value- $55.4bn
Having risen from relative obscurity to become a heavy technological across the globe, Huawei's name recognition ensures it retains a top 10 position despite its recent travails related to Western suspicions about its closeness to the Chinese government - which led to it being banned from involvement in many 5G networks. The company continues to innovate, however, with everything from homegrown operating systems to pig farming.
09: Tencent, brand value - $56.43bn
Chinese holding company Tencent is, through its subsidiaries and associates, active in a wealth of industries with a focus on technology. Those range from instant messaging services, video game publishing and web portals. Led by one of China's most prominent business magnates in the form of "Pony" Ma Huateng, the company is headquartered in Shenzhen, in twin skyscrapers known as the Tencent Seafront Towers.
08: WeChat, brand value - $67.9bn
WeChat is owned by Tencent, the prior entry on this list, and is perhaps the quintessential example of the Asian phenomenon of the "super app", integrating a wide variety of functions into one programme. These include messaging, social media and payment functions, as well as games and other services. Its popularity in China is not matched elsewhere, where it has run into conflict - including attempts to ban it in the US and India.
07: Verizon, brand value - $68.89bn
One of the so-called "Baby Bells" spun off from the monopolous AT&T in 1983, telecommunications firm Verizon was originally known as Bell Atlantic. In 1996, the company underwent a merger with NYNEX, a fellow Baby Bell covering the north-eastern United States, moving its headquarters to New York at the same time. Its current name was gained in the merger with GTE, which was historically the largest telephone provider outside of the Bell System.
06: Facebook, brand value - $81.48bn
Mark Zuckerberg's college project has spawned a social media empire, incorporating not only the eponymous social networking site but also Instagram and WhatsApp. In more recent times, hardware has become an increasing focus of the company's efforts with the likes of VR Oculus headsets and smart Portal displays, but its sprawling reach has led to regulatory disapproval, recently coming to a head in Australia over news content.
05: Samsung, brand value - $102.62bn
The only South Korean entrant on this list, Samsung is an example of the South Korean phenomenon of the chaebol, or a family run conglomerate. Active across a broad swath of electronics products from fridges to washing machines, Samsung also possesses heavy industry and theme park divisions. Its brand value is built on the runaway success of its mobile phone offering, which are among the most popular utilising the Android operating system.
04: Microsoft, brand value - $140.44bn
Technology company Microsoft is a giant in all the technological areas in which it competes. Alongside its competitors, it shares an ever-increasing focus on cloud services, which it offers under the Microsoft Azure banner. Microsoft is also a leader in the video gaming market, and the only representative of the industry's big three (itself, Sony and Nintendo) on this list. The company's CEO is Satya Nadella, who has led Microsoft since 2014.
03: Google, brand value - $191.22bn
Google is the world's most prominent search engine, as evidenced by the fact its name is synonymous for the practice. It has divested into many other areas, however, whether its Android operating system for phones or its Google Cloud business. Alphabet is the holding company which most prominently contains Google, along with other promising technology companies such as machine learning specialists DeepMind and autonomous driving firm Waymo, both of which are driving innovation in their respective sectors.
02: Amazon, brand value - $254.19bn
Founded by CEO Jeff Bezos as an online book retailer, the company has since expanded to a huge variety of sectors, from smart assistants to audio books and, of course, an ecommerce empire. Bezos has recently announced his intention to step down, however, to devote more time to other projects including space firm Blue Origin. It lags behind our number one entrant by only a few billion dollars, while handily beating Google to second place.
01: Apple, brand value - $263.38bn
It was somewhat of an inevitability that Apple clenched the title of most valuable tech brand in the world. After all, Apple has helped define the modern way of life with its release of the iPhone smartphone in 2007. It has more recently pivoted to services, as with its streaming platform AppleTV+ and gaming service Apple Arcade. 2020 was a record year for the company, which weathered the ongoing COVID-19 pandemic to release the latest range of iPhones.