Top 10 tech B Corps using business as a force for good
By Charlie Steer-Stephenson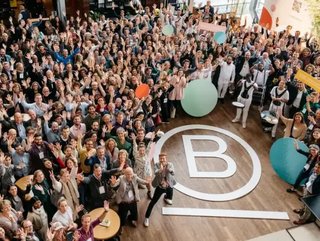 Source: B Lab
Technology Magazine investigates which certified tech B Corporations are having the biggest impact on society and the planet
Certified B Corporations (B Corps) are companies that meet the highest official standards of social and environmental performance. According to B Lab, there are currently more than 4,300 B Corps across 77 countries 'using business as a force for good'. In the tech industry, companies are increasingly recognising the advantages of joining the B Corp movement and working beyond profit, to best serve customers, workers, communities, and the planet.
By B Lab's standards, the median score for ordinary B Corp businesses is 50.9. Let's see how our top 10 tech companies perform according to B Lab's scoring system.
10. Image Relay
B Lab Score: 80
For 20 years Image Relay have helped thousands of brands strengthen their marketing presence and create a unified digital platform. The company uses Digital Asset Management (DAM) and Product Information Management (PIM) to maximise Marketing Delivery as the best way to ensure consistency across clients' branding.

9. Matter Unlimited
B Lab Score: 80.4
Matter Unlimited is a creative consultancy firm that encourages companies to acknowledge and maximise their social responsibility. Promoting themselves as change agents and thought leaders, Matter Unlimited uses technology to bridge culture, capital and cause, helping mission-driven businesses thrive in both profit and sustainability.
8. Help Scout
B Lab Score: 81.1
With over 12,000 customers in 140 countries, Help Scout is a customer service platform that enables companies to focus on the most important aspect of their business: customer relationships. Through email and live chat, Help Scout uses in-class-reporting and API to streamline communication between companies and their customers.

7. Altvia Solutions
B Lab Score: 82.2
Tech platform Altvia Solutions uses future-focused technology to help companies raise capital, manage investor relations and deliver business intelligence. Altvia provides a cloud-based customer relationship management (CRM) that renews firm lifecycles and enhances workflow, thereby improving the global economy for the benefit of people, communities and the planet.
6. Daltrey
B Lab Score: 82.8
Australian tech company Daltrey has a unique approach to biometrics and digital identity. Responding to the growing focus on data security, Daltrey aims to eliminate usernames, passwords, access cards and PIN numbers so that clients (such as the Australian federal government) can be assured of safer, more secure work environments.
5. Clean Technology Partners
B Lab Score: 85.1
Since 2011 Clean Technology Partners (CTP) has fostered the development of over 1,000 clean energy products. From design to system understanding to technical advice, CTP offers a range of customers various electrical, mechanical and engineering services to work towards saving time, money, and the planet.
4. Branching Minds
B Lab Score: 88.5
With increased attention to the relationship between cognitive science and behavioural challenges in young people, Branching Minds uses RTI and MTSS technology to track and store data on student progress. A New-York-based platform, Branching Minds unites research and practice to help teachers support the academic and personal needs of their students.
3. Rubicon
B Lab Score: 108.4
Rubicon Global is a digital marketplace that helps companies use technology to improve waste processes and meet their sustainability goals. Established in 2008 with the aim of transforming communities into cleaner and smarter places to live and work, Rubicon provides innovative software-based solutions for over 8m businesses and governments across the world. Rubicon's mission is to use technology to improve operations, promote and meet sustainability goals, and end waste.

2. Worldcoo
B Lab Score: 109.3
Barcelona-based Worldcoo is Europe's leading social company that uses technology to unite crowdfunding with e-commerce. Worldcoo provides conscientious online retailers with a platform for card-paying customers to support non-profit organisations. By simply rounding up the amount of their purchase and donating the remaining cost to a fundraising project, Worldcoo enables companies and their customers to have a significant social impact with every purchase.
Between 2012 and 2022, there have been more than 50,000,000 donations made to fund around 700 projects around the world. Worldcoo's increasingly global outreach is raising awareness of social and environmental causes, while encouraging and facilitating action in the form of micro donations.

1. PeaceWorks Technology Solutions
B Lab Score: 124.7
PeaceWorks Technology Solutions supplies accessible and affordable information technology services, software development, and technology consulting to non-profit organisations. PeaceWorks claims to be personally and professionally grounded in social justice. The company uses technological expertise to support charities, social enterprises, small business, education and medical services around the world.
PeaceWorks primarily works with companies that have a mission to make a positive impact in society, so that they can work together to make change happent. Its focus on sustainability and reliable technology makes PeaceWorks the number one service for companies in need of high-level IT support and software solutions.