Coca-Cola harnesses GPT-4 and DALL-E for AI holiday cards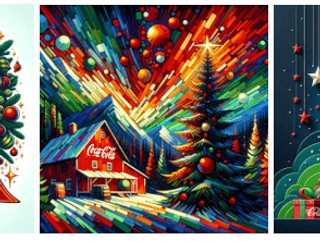 The company is leaning into the potential of AI and aiming to bring people together during the holiday season
Coca-Cola is using AI for a festive campaign that encourages consumers to create personalised festive cards, combining GPT-4 and DALL-E technologies
Coca-Cola is reimagining user-generated content (UGC) to resonate with a new generation by harnessing the power of AI.
The corporation is sharing its festive brand assets so that anyone can design bespoke digital holiday cards using the latest AI technology.
On its CreateRealMagic.com page, consumers can experiment with the holiday-themed content available to make their own shareable holiday cards, which include the infamous classic Santa Claus brand. By sharing these storied assets with consumers and allowing them to be seen through the prism of new technology, Coca-Cola hopes that these images can be re-discovered by a younger generation.
Positive AI use cases: allowing creative expression
UGC is increasingly becoming adopted by global companies, as users become more open to the idea of using AI to help with all kinds of tasks and activities. Generative AI tools already have the capabilities to produce a wide range of media, including articles, images, videos recommendations that can be indistinguishable from human-created content.
Coca-Cola's initiative builds upon the success of Create Real Magic - the first platform of its kind to combine the capabilities of GPT-4, which produces human-like text from search engine queries, and DALL-E, which produces images based on text. With these AI tools, users will be able to reimagine and share some of the company's images with the goal of forging global connections.
Plenty of global companies have already deployed this new AI technology in order to advance their business capabilities. A common goal is to harness AI to better interact with and engage the consumer.
Pratik Thakar, Coca-Cola's Global Head of Generative AI, says that Coca-Cola wanted to use the 2023 holiday season to create a positive space for people to express their creativity.
He says: "We are connecting the dots between culture, creativity and technology. The Create Real Magic platform invites consumers to use AI for crafting artwork using iconic creative elements from the Coca-Cola archives. #CreateRealMagic cards are a perfect way for us to celebrate people and the holidays using AI. We are humble but iconic, real yet magical and this latest campaign is a testament of the same."
As people can create their own products, the company is leaning into the potential of AI and aiming to bring people together during the holiday season with the classic Coke branding.
"AI presents a unique opportunity to connect with the changing world of digital innovation and, by playing to a cultural moment like the holidays, we can find new, innovative ways for our audience to engage and connect, and to continue to learn in this space," said Selman Careaga, President at Global Coca-Cola Category.
People across the world will be able to generate artwork to share with loved ones as a holiday card. Coca-Cola will also feature consumer created artwork on its digital billboards throughout the world such as New York's Times Square and London's Piccadilly Circus.
This 2023 global festive campaign comes to life in many forms and will be adapted by more than 80 markets worldwide. Coca-Cola's positive narrative will also extend across all channels - from the TV ad, to physical experiences with the iconic Coca-Cola Christmas Truck tour and local charitable partnerships, to digital initiatives like the 'Create Real Magic' AI Christmas Card generator and the 'Find Your Inner Santa' quiz.
******
For more insights into the world of Technology - check out the latest edition of Technology Magazine and be sure to follow us on LinkedIn & Twitter.
Other magazines that may be of interest - AI Magazine | Cyber Magazine.
Please also check out our upcoming event - Sustainability LIVE Net Zero on 6 and 7 March 2024.
******
BizClik is a global provider of B2B digital media platforms that cover Executive Communities for CEOs, CFOs, CMOs, Sustainability leaders, Procurement & Supply Chain leaders, Technology & AI leaders, Cyber leaders, FinTech & InsurTech leaders as well as covering industries such as Manufacturing, Mining, Energy, EV, Construction, Healthcare and Food.
BizClik – based in London, Dubai, and New York – offers services such as content creation, advertising & sponsorship solutions, webinars & events.