NVIDIA Maxine from YouTube.
We asked some of the leading minds in tech about the recent surge in chatbot usage, the power of conversational AI and how to spot good bots and bad bots
Her Majesty's Revenue & Customs (HMRC) – the UK government department responsible for tax collection – has seen the number of interactions with its chatbot service surge from just under 200,000 in the financial year just before the pandemic hit (FY 19/20), to nearly 2.5 million in the year that followed, which represents a total of 3,275,046 separate chatbot interactions since the start of COVID-19.
Niall Crosby, CEO, CTO and founder of AG Grid, commented: "When used correctly, chatbots can play a vital role in alleviating organisations of thousands of basic customer services requests. However, the 'one-size-fits-all' policy typically associated with chatbots, where it's impossible to get a human response to a bespoke issue, can lead to frustration and a poor customer experience.
"In this case, it's positive to see that HMRC has understood the value of investing in its chatbot programme so that it doesn't fall into this category. Other organisations that are inundated with customer services requests should follow suit, particularly as the demand for digital and on-demand support continues to rise."
A divisive issue for many, chatbots are seemingly here to stay. How wide are the applications of these artificially intelligent tools, and what are the pitfalls of using them?
Conversational AI at NVIDIA
Conversational AI is being used to help businesses, with chatbots being just a single application of this technology. Other applications also include virtual assistants, live captions and text transcription.
John Harding, regional director of the UK&I Enterprise at NVIDIA, believes AI has now made speech and language understanding accurate enough that it's practical to deploy in industry. AI can understand domain specific jargon in real-time, opening the door to thousands of language and speech-based applications.
"Conversational AI primarily consists of three components: automatic speech recognition (ASR); natural language processing (NLP); and text-to-speech (TTS).
These three components can be further divided into two categories: speech AI (ASR and TTS), which enables computers to transcribe speech and speak like humans; and natural language processing (NLP), which can be compared to the processing of language in the human brain and helps to provide intelligence to conversational AI applications," said Harding.
Harding suggests that, every day, "hundreds of thousands of billions of conversations take place" all over the world. "Digitising these conversations is necessary to improve customer experience and generate human-like conversations with virtual assistants. We can also be confident that, as the younger generation becomes the major customer base, their expectation will be to connect with businesses 24/7 through technology channels – and advanced digital communications will only increase the requirement for a successful operation to offer advanced AI workflows," he added.
Some companies can get it wrong because they believe conversational AI applications cannot achieve human-level accuracy and do not interact in real time. However, according to Harding, conversational AI technology has advanced both in terms of accuracy and real-time performance to understand and generate intelligent responses in a human-like fashion. "Conversational AI not only improves customer experience but also operational efficiency," said Harding.
A real-world customer example of NVIDIA tech use includes T-Mobile, which offers award-winning customer service in its Customer Experience Centres and aims never to have customers repeat themselves.
To empower its frontline agents, T-Mobile implemented Expert Assist. This AI-based software uses NVIDIA Riva to transcribe customer and agent conversations. The transcribed conversations are then analysed to provide real-time recommendations to agents for quickly resolving customer queries. With Riva, T-Mobile improved accuracy by 10% and was able to run the pipeline 10x faster.
Elon Musk Twitter takeover brings bots into line of fire
Nick France, CTO at cybersecurity company Sectigo, believes that the Elon Musk Twitter takeover news is a good example of just how damaging bad bots can be.
"Musk – now unsure whether the US$44bn Twitter takeover is worthy, based on the number of bots plaguing the platform – has started the debate on how tech platforms can better verify digital identity. It's not an issue that can ever be in the hands of a single person; it's a business's job to implement identity-first security frameworks that secure and protect digital identities throughout their entire life cycles."
France says that the top priority for all businesses should be to securely onboard all digital identities, humans, and machines.
"Validating human identities – as well as the related devices used for the interaction like mobile devices – OS, etc., will be critical" said France.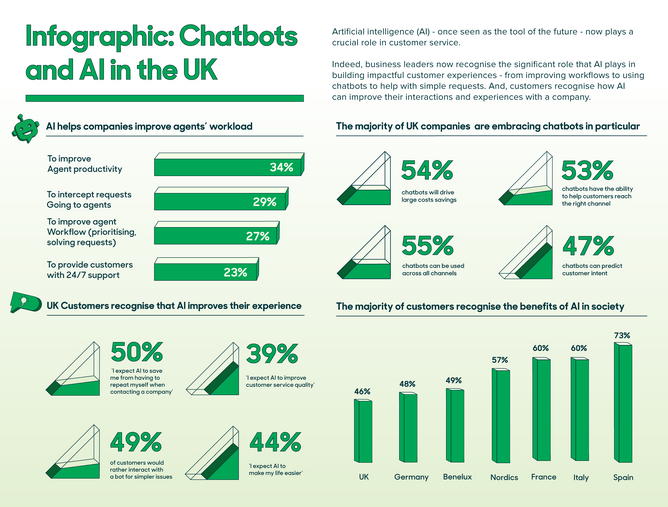 Chatbots and AI in the UK
Good bots and bad bots
Thomas Platt, head of sales at Netacea, says businesses are actually reliant on bots – third-party bots such as search engine crawlers (e.g. Googlebot), price and content aggregators, and partner services – because they're making businesses money.
"It's therefore important to make the distinction between good bots and bad bots, because a bot management service that blocks all bot traffic would damage a website and do more harm than good. A solution should be one that prioritises customers but also realises the importance of bots on SEO," said Platt.
Bad bots have the potential to cost businesses an average of 3.6% of their online revenue, according to research conducted by Netacea on the cost of bots, which found that, for 25% of the worst affected businesses, bots cost them more than $250mn a year. In that research, they also found that the businesses identified the most attacks to come from account checker bots (46%) – these are used by bot operators to see if usernames and passwords that have been leaked also work elsewhere in a 'credential stuffing' attack. Sniper bots (32%, and scalper bots (29%) were identified as the second and third most common in our research," adds Platt.
Chatbot success dependent on the nature of the query
Pranav Desai, chief product officer at Reputation, said: "It's important to be selective with when and how AI is used to interact with customers. Especially in a world where, depending on the nature of the query, customers may not want to speak with a 'bot' and may even get frustrated, thereby exasperating the issue and jeopardising the business' relationship with the individual."
Here, said Desai, the difference is understanding the nature of the enquiry. "For instance, AI that identifies when a human operator and touch are needed to resolve a serious complaint, against times when an enquiry is received out of hours and an automated AI-generated response can ensure a customer feels heard until an operator is back online to get in touch with them".
Soeren Bech, vice president, EMEA, Persistent Systems, said that "technological developments in recent years have elevated simple chatbot functionality to the more refined and complex realm of Conversational AI (CAI)".
"Now that CAI is a reality and seeks to deliver much more than automated responses, feedback-to-chat bots have become much more positive.
"Looking forward, maximising CX in businesses will rely more heavily on bots, thanks to the use of sophisticated AI to not only access and harness the intelligence of a whole organisation and its systems, but also to provide a realistic human-like contextual and branching conversation."
Freed from repetitive manual work
"Unlocking the value from enterprise data and converting it into business breakthroughs requires labour-intensive, repetitive tasks spanning both operational activities and the data pipelines that inform them," said Vishal Soni, Technical Product Marketing Manager at Alteryx.
Alteryx brings analytic intelligence to bots, delivering insights and outcomes from end-to-end automation of analytics, machine learning, and data science processes.
The UiPath connector in the Alteryx Platform has accelerated value for mutual customers by making it easy to invoke UiPath bots directly within an Alteryx workflow, enabling automated analysis and augmented robotic intelligence to drive smarter business outcomes, using every byte of data in the organisation – even the 'dark' data hiding in legacy systems.
"With terabytes of raw data piling up across the business, many labour-intensive processing tasks can be automated and streamlined. Alteryx Analytics Automation and UiPath RPA ingest data seamlessly from its source, analyse and interpret it, and drive results into downstream applications and processes. This frees teams from repetitive manual work and empowers organisational leaders to make faster, more confident decisions," said Soni.