OpenAI ChatGPT Enterprise tier drives digital transformation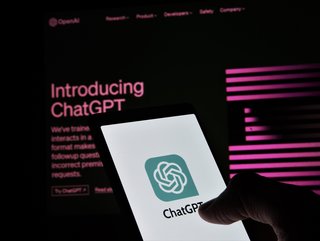 OpenAI launched its new Enterprise tier of ChatGPT last week
OpenAI's release of ChatGPT Enterprise aims to help company digital transformation - but will this cause greater incentive for businesses to invest in AI?
OpenAI has announced ChatGPT Enterprise: the company's latest AI chatbot development which offers enterprise-grade security and privacy.
Some of the benefits to this new service include higher-speed GPT-4 access, longer context windows for processing longer inputs, improved data analysis capabilities and options for customisation.
The company believes that AI can work to assist and elevate every aspect of working lives and make human teams more creative and productive. It sees ChatGPT Enterprise as a step in the right direction towards an AI assistant that is capable of helping with any task, as well as being customised to individual organisations to better protect company data.
"Since ChatGPT's launch just nine months ago, we've seen teams adopt it in over 80% of Fortune 500 companies," OpenAI said. "We've heard from business leaders that they'd like a simple and safe way of deploying it in their organisation. Early users of ChatGPT Enterprise - industry leaders like Block, Canva, Carlyle, The Estée Lauder Companies, PwC, and Zapier - are redefining how they operate and are using ChatGPT to craft clearer communications, accelerate coding tasks, rapidly explore answers to complex business questions, assist with creative work, and much more."
AI as an employee: Working to accelerate business transformation
In a world where humanity is experiencing huge anxieties surrounding the chatbot and how it could take over human workforces, being able to provide examples of positive use cases of these digital systems is crucial for tech giants.
Recognising the importance of maintaining a skilled workforce is vital within AI sectors, as companies must remain resilient if they want to stay ahead in an ever-evolving digital industry.
ChatGPT Enterprise appears poised to tackle some of these workplace concerns. Huge companies are already using the chatbot to craft clearer communications, accelerate tasks like coding, as well as exploring more answers to complex business questions.
The new tool will also allow businesses to protect their data with enterprise-grade privacy, security and deployment tools. Arguably most importantly, OpenAI has made it very clear that the individual organisation holds ownership over and controls its own data - meaning that OpenAI will not train its own models from a business' data.
ChatGPT Enterprise instead offers a new admin console to allow businesses to manage team members easily and offers domain verification, SSO and usage insights that allow for large-scale enterprise deployments.
Will this cause another increase in AI investment?
It is no secret that ChatGPT prompted businesses to rethink their digital strategies and future developments. A 2023 poll found that 45% of executives say that ChatGPT has prompted an AI investment increase and 70% of organisations are already currently exploring generative AI tools. Ultimately, it is clear that businesses are already seeing real value in AI and how it can help human workforces to improve their productivity and efficiency.
It has yet to be seen if ChatGPT Enterprise will cause greater incentive for businesses to invest and pay more for AI services. What is clear is that it offers an opportunity to help deliver company solutions.
OpenAI is not the first company to offer an enterprise-level chatbot assistant. The company has stated that ChatGPT Enterprise can perform the same tasks as the original ChatGPT, such as writing emails, drafting essays and debugging computer code and according to TechCrunch, this parallels the features exhibited by Microsoft's recently launched business-oriented chatbot service, Bing Chat Enterprise.
What is clear, however, is that the value of human employees remains paramount - and AI is here to help.

******
For more insights into the world of Technology - check out the latest edition of Technology Magazine and be sure to follow us on LinkedIn & Twitter.
Other magazines that may be of interest - AI Magazine | Cyber Magazine
Please also check out our upcoming event - Sustainability LIVE in London on September 6-7 2023.
******
BizClik is a global provider of B2B digital media platforms that cover Executive Communities for CEOs, CFOs, CMOs, Sustainability Leaders, Procurement & Supply Chain Leaders, Technology & AI Leaders, Cyber Leaders, FinTech & InsurTech Leaders as well as covering industries such as Manufacturing, Mining, Energy, EV, Construction, Healthcare + Food & Drink.
BizClik – based in London, Dubai, and New York – offers services such as Content Creation, Advertising & Sponsorship Solutions, Webinars & Events.