Lifetime of Achievement: Satya Nadella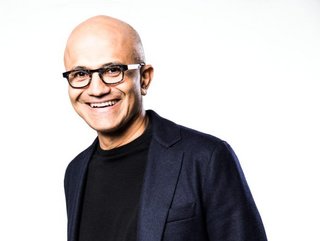 Satya Nadella
Satya Nadella: giving Microsoft an edge
With the growth of AI and companies continuing to invest in rapidly changing technology, Satya Nadella is a CEO who prides himself in being at the forefront of innovative changes. Joining Microsoft in 1992, Nadella quickly became known as a leader who could span a breadth of technologies and businesses to transform some of Microsoft's biggest product offerings.
It is no secret that Nadella has transformed Microsoft's digital capabilities through great expansion. With the company investing billions of dollars of investment in OpenAI, Nadella is keen to see the company thrive in midst of rapid technological advancements and ultimately put the company back in the race.
Digital transformation: Nadella causes Microsoft stocks to rise
Nadella briefly worked for the now defunct Sun Microsystems before joining Microsoft in 1992. Before becoming CEO in 2014, he was Executive VP of cloud and enterprise where he oversaw Microsoft Azure and the company's repositioning towards cloud services. This is now the most profitable business area of Microsoft.
In 2011 he led the nascent cloud platform Microsoft Azure and worked towards building out its infra­structure and services. Nadella was always clear that Microsoft Cloud was doing "more with less" by delivering a safe and efficient platform that is innovative as well as secure.
The Azure platform is formed of more than 200 products and cloud services and helps businesses manage challenges and meet organisational targets. It provides tools that support all industries and is compatible with open-source technologies, with more than 60 data centre regions connected by 175,000 miles of fibre.
Microsoft also charges Azure on a pay-as-you-go basis, meaning that subscribers receive a bill each month that only charges them for the specific resources they used. According to Microsoft, 95% of Fortune 500 companies rely on the platform for cloud services for their digital transformation targets.
With this in mind, Yahoo! Finance reported in June 2023 that Baron Funds had conducted a study that highlighted to what extent Nadella has helped Microsoft into the digital transformation race. As of June 2023, Microsoft Corporation delivered a 36.26% return since the start of the year, while its 12-month returns were up by 29.17%.
In its investor letter, Baron Durable Advantage Fund said: "The stock languished for almost 15 years while Apple, Amazon, Google, and Facebook led the transition to mobile. Satya Nadella finally took the reins in 2014 and immediately changed the company's focus from the Windows-centric, on-prem legacy businesses to a cloud-first platform that could be accessed and used from any (mobile) device anywhere in the world."
"The price of Microsoft stock has increased seven-fold since Satya Nadella took over as CEO."
Bing AI as the "real incarnation of Clippy"
Microsoft is an investor in OpenAI. According to WIRED, Nadella was quick to see that partnering with the company and its CEO, Sam Altman, would put Microsoft at the centre of a new AI boom.
Microsoft has made leaps and bounds since its very memorable paper clip Office Assistant, Clippy. Nadella in particular stated in an interview with the Wall Street Journal that the new Bing AI was a sort-of "real incarnation of Clippy" and it certainly has much greater potential to help users.
Bing with AI has ultimately changed what people can expect from a search function. Having combined OpenAI's model with Bing's search data, users can chat directly with the search engine. It not only types out answers to questions asked, but also includes citations so that users know exactly where the information has come from.
Nadella has acknowledged that this type of software is a profitable area of business. In January 2023, Microsoft announced that it would be extending its partnership with OpenAI through a multiyear, multibillion dollar investment to accelerate AI breakthroughs to ensure these benefits are broadly shared with the world.
At the time, Nadella said: "We formed our partnership with OpenAI around a shared ambition to responsibly advance cutting-edge AI research and democratise AI as a new technology platform.
"In this next phase of our partnership, developers and organisations across industries will have access to the best AI infrastructure, models and toolchain with Azure to build and run their applications."
Safety is paramount. Nadella has been clear that technology companies and Microsoft specifically have got to consider AI safety as an ongoing responsibility, instead of a one-time responsibility. In order to propel technology forward and allow it to remain safe and accessible for all users, this growth mindset is essential.