Hybrid working: Tech companies demanding end to remote work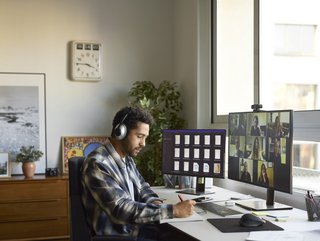 Office attendance among tech companies has risen to an average of 32%
Big tech companies including Amazon, Alphabet and Meta are asking employees to return to the office in an end of fully remote working
Technology companies are showing the largest shift in returning to the office, following changes in policies at a number of tech giants including Amazon, Alphabet and Meta.
Average attendance increased from 15% to 32% compared to the same time in 2022, according to a study of 119 workplaces in 22 countries by AWA, a global workplace consultancy. The responses, collated in between April and May 2023 and representing organisations employing close to 155,000 people, also saw the technology industry report an average of 46% of desks being used, increasing from 21% last year.
Technology companies are asking their employees to return to the office in an end of fully remote working
The report follows a number of announcements from tech companies, rolling back on hybrid working policies which came about as a result of the COVID-19 pandemic.
As first reported by CNBC, Meta told its employees they would need to work from the company's offices three days a week beginning in September.
Amazon, meanwhile, told its employees earlier this year of an expectation that workers would be in the office at least three days a week, while Google parent company Alphabet asked employees to return to their desks in April.
Even video conferencing platform Zoom - a major enabler in the sudden shift to remote working as a result of the pandemic - has asked its employees to return to the office, announcing it would be taking a "structured hybrid approach" to work.
According to AWA's research, the average office attendance is the equivalent to 1.6 days per week and means the technology industry is now at a similar average attendance as financial services, which sits at 35%.
Overall, AWA's third Hybrid Index study has found that organisations are responding to the shift to hybrid working by improving their desk use in offices and reducing their real estate needs. 37% of employers said they were planning to reduce their office space through disposals, subletting or consolidation. This is a result of the improved desk utilisation as organisations adapt to the new reality of hybrid working, with the percentage of desks in use on average rising to 48% from 33% a year ago.
"It doesn't come as much of a surprise to see a significant increase in technology companies returning to the office," Andrew Mawson, founder of AWA, said. "Most major tech companies are mandating some form of in-office work including Meta, Amazon, Apple, and more recently, Zoom. However, we continue to believe we have reached a steady state on hybrid working. Savvy employers are using the new reality to become more efficient, improving desk use and reducing their real estate needs. We expect this to result in a gradual build-up of empty office space over the next 5-10 years as leases expire, with a resultant downward pressure on rents and asset values."
Hybrid work policies are still not in place for many employers
However, AWA has found that three years since working practices changed at the start of the pandemic, 46% of offices do not have a hybrid working policy. Where employers mandate people to come into the office a specific number of days per week, the employees come in significantly fewer days, indicating that ordering staff back doesn't work.
"In our experience, hybrid working changes everything from employment contracts, skills, recruitment strategies, workplace design, security and more," adds Mawson. "While some organisations have taken a 'let's see what happens' approach to hybrid working since the end of the pandemic, we believe it's now time for all tech organisations to develop holistic hybrid working policies and address a wide set of issues to prepare themselves for the future."
******
For more insights into the world of Technology - check out the latest edition of Technology Magazine and be sure to follow us on LinkedIn & Twitter.
Other magazines that may be of interest - AI Magazine | Cyber Magazine.
Please also check out our upcoming event - Cloud and 5G LIVE on October 11 and 12 2023.
******
BizClik is a global provider of B2B digital media platforms that cover Executive Communities for CEOs, CFOs, CMOs, Sustainability leaders, Procurement & Supply Chain leaders, Technology & AI leaders, Cyber leaders, FinTech & InsurTech leaders as well as covering industries such as Manufacturing, Mining, Energy, EV, Construction, Healthcare and Food.
BizClik – based in London, Dubai, and New York – offers services such as content creation, advertising & sponsorship solutions, webinars & events.