McLaren Racing & Alteryx Analytics: Data-driven to win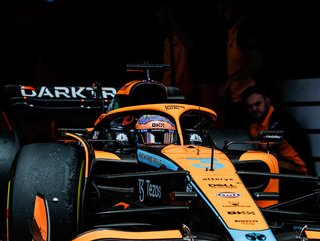 McLaren CEO Zak Brown, Head of Technology Ed Brown, and CDAO at Alteryx, Alan Jacobson, detail the widespread organisational benefits of good data
In the white heat of another exciting F1 season, Technology Magazine was lucky enough to visit Silverstone's McLaren Racing Paddock Club to speak to McLaren Racing and Alteryx Analytics about their partnership, which is already reaping numerous benefits for both parties as the 2022 season hots up.
I spoke to McLaren CEO Zak Brown and their Head of Commercial Technology, Ed Green, as well as Alan Jacobson, Chief Data & Analytics Officer at Alteryx, to explore how analytics are embedded into McLaren Racing's ecosystem.
Competing in four racing series – F1, Indycar, ExtremeE and Esports – motorsports' royalty McLaren Racing are a mainstay of the racing calendar and part of a global motorsport revenue that increased last year by 87% to US$2.14bn, while F1's global TV audience hit 1.55bn in 2021.
They were the first team to have a carbon fibre tub in the 1980s, something now ubiquitous in the world of motorsports, and CEO Brown is proud of McLaren's heritage in "putting driver safety first and also being world leaders in the field of aerodynamics".
This ethos stretches outside of F1 and into supplying the NHS throughout the pandemic with ventilators, providing lightweight materials in areas such as prosthetics and even helping key partners such as Unilever to improve ice cream production from a sustainability standpoint.
"We've worked with airlines, too, in terms of how to keep them in the air for longer, because they don't make money when they're grounded," Brown adds. "Even at the gate, we have helped them find ways to make gains and speed up the process.
"F1 is known as a gateway for innovation, pioneering important technology for other industries outside of the sport to follow in its tracks."
The origins of the partnership
Alteryx became a partner of the McLaren Racing Formula 1 team in early 2021, and Jacobson revealed that it was the "perfect enabler for Alteryx to participate in this technical, analytics-driven sport".
"Formula 1 has always been at the cutting edge of technology," he says. "Working with McLaren Racing is a great way to demonstrate the power of the Alteryx Platform in automating the complex, tedious business processes needed for better, faster decision-making."
The partnership is an excellent opportunity for Alteryx to sell what they do to other businesses, and Brown acknowledges that at McLaren, they want Alteryx to be able to do that for everyone aside from other F1 teams.
"Ultimately while F1 is quite specialised and not necessarily the largest business for Alteryx within itself, but it is the opportunities within the partner ecosystem where Alteryx can really benefit long term. F1 is a fantastic B2B platform, attracting a lot of C-level executives. It's very attractive to CTOs, CIOs and CFOs, regardless of which lane they are in," says Brown.
This is not only a union of two brands that pride themselves on spearheading innovative technology to enable everyone to achieve excellence in their performance, but Jacobson adds that it is "a great way to illustrate how many different data points are collected and analysed to make critical performance decisions".
McLaren Racing were looking for an analytics platform to help deliver insights, both on the business and performance side. As a team always looking to refine learning in ways that help them go quicker, the Alteryx technology partnership with McLaren Racing aligned perfectly with the Alteryx mission: to enable everyone to make decisions faster.
By transforming the way data is collected and providing accessible, powerful and intelligent analytics automation at speed, diverse teams of domain experts at McLaren Racing can upgrade from refining data to delivering new insights and intelligence to the team in minutes.
The democratisation of analytics
Formula 1 racing is a perfect demonstration of how a data-rich environment can be harnessed and analysed to find key signals in complex data, driving insights at tremendous speeds. But, while the power of data-driven insights cannot be understated, Jacobson suggests that "many businesses outside of F1 and McLaren Racing are in a situation where a wealth of data – but a poverty of insights – is stalling similar performance results".
The IAA (International Institute of Analytics) has a five-stage model that assesses and maps 'analytics maturity' for businesses.
"This research shows where organisations are on their five-stage journey to being truly analytical and data-driven. While highlighting that analytically mature, data-driven companies constantly deliver, shockingly, the average company score is 2.2 If data is the fuel, then a diverse range of data-literate domain experts are the drivers needed to accelerate the delivery of those business insights," says Jacobson.
The partnership is about more than just fine-tuning fast cars. The Alteryx platform is crucial throughout the entirety of the McLaren Racing team's activity, from the race track to the back office.
Leveraging the Alteryx platform, McLaren Racing are seeing results across many different areas, and the people who are driving those results are not all technical analysts.
Jacobson adds: "What is now happening is that domain experts in different areas are able to create breakthroughs using a combination of data, domain expertise and accessible, self-service analytics technology that is easy to use – empowering them to learn more about analytics as they apply their domain knowledge.
"By providing the analytic capability that almost anyone can use, McLaren is successfully democratising data and analytics across team members."
While helping the McLaren Racing team drive advantages across their F1 races and also their back-end operations, the team is part of just 24% of companies the IIA reports are at 'Stage Four – data-driven'.
Ed Green, Head of Commercial Technology at McLaren, continues: "The democratisation of analytics across the team allows users to create self-service insights. Having use cases ranging from business analysts in HR to Extreme E race engineers allows us to leverage a common platform across McLaren. Ultimately, this helps us to make more data-driven decisions whilst allowing the team to share and engage fast-paced workflows."
Engaging with the F1 fanbase
One area McLaren are playing with is the Metaverse, where they collaborated with Roblox to release a number of features, all to be unlocked by fans. Roblox is a global online platform with millions of virtual experiences available across a wide range of devices, including PC, Xbox, mobile, and more.

McLaren worked with development studio 'The Gang' to recreate the McLaren Technology Centre (MTC) for the virtual launch of their 2022 challenger, the MCL36.

"We know that we have hundreds of millions of fans, and we know 15-20 million of them quite well – but not well enough to have a continuous engagement with them," Brown continued.

From what they do on race days, their viewing habits both on location and at home, what they like to buy and where they live, Alteryx is helping to fill this knowledge gap alongside a newly-appointed Director of Fan Engagement.

Brown adds: "F1 has a huge amount of growth when it comes to fan engagement. We were late, as a sport, to digital due to the previous broadcast model."

The fleeting nature of a competitive edge

F1 is a sport where data is everything. With 300 hundred sensors on the cars, a typical race weekend can consume around 1.5 terabytes of data.

"Across McLaren Racing, we use Alteryx to build and share workflows across multiple departments – whether we're problem solving with wind tunnel data analysis or streamlining marketing data processing, the ability to create and distribute workflows allows us to work effectively as a team," says Green.

By allowing both first time and experienced users to have access to current and past workflows, Green concludes that this "drives new ideas and encourages collaboration between data users of all backgrounds across our organisation".

Brown continues: "It's one thing to get data, but it's another thing to get it quickly and amalgamate it to make the data relevant. Otherwise, it's just a lot of noise."

Speed of time to insights plays a big role, but on the subject of the 'racer instinct', Brown says that, if he had to rely solely on his own instinct, without access to all the data on the screens fed in real-time, "9 out of 10 times, I would have been wrong; on the pit wall, however, you need a blend of both – a human still needs to make a final, informed decision".

In the year since the partnership began, Brown was keen to outline that the biggest benefit was "helping understand the difference between good and bad data".

With Alteryx new to the sport, "the willingness and desire for customisation is something that has impressed us".

"To adapt and flex and hear what we need, and then provide solutions, has been transformative," Brown says. "F1 is all about gaining the edge as quickly as possible for as long as possible. You can have regulations changing and competitors copying each other. It's very much a developer war."